2018 Civic i-DTEC Diesel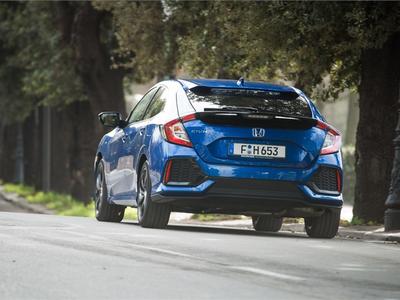 The all-new Civic diesel exhibits best ever dynamics, refinement and sophistication
Sporty, sophisticated and distinctive design
Engineered to deliver an engaging and dynamic driving experience
Comprehensively revised 1.6 i-DTEC diesel engine delivers outstanding real-world efficiency and refinement
Retains class-leading interior space with improved usability
Next-generation Honda Connect delivers enhanced intuitive operation
Honda SENSING makes new Civic one of the safest cars in its class
The tenth-generation Honda Civic is available in Europe as a dynamic five-door hatchback, as well as a sporty and sophisticated four-door compact. It represents a significant step forward for Honda, benefiting from the largest single model global development programme in the company's history.
The Civic is a core model for Honda in Europe and has been at the heart of the brand's strong sales and manufacturing heritage in the region. For many European customers the Civic is synonymous with the Honda brand and the development team targeted a dynamic rejuvenation of Civic to place it in a league of its own.
Mitsuru Kariya, Chief Engineer and Global Project Leader, said:
The creation of this tenth-generation Civic represents one of the most comprehensive and ambitious new model developments ever undertaken by Honda. As well as an unprecedented commitment of R&D resources, the process involved sales and manufacturing operations around the world, from North America and Japan, to Europe, South America and Asia. This car, the sportiest Civic ever, sets new benchmarks for the compact class in terms of dynamic performance, fuel efficiency, spaciousness, safety and interior quality.
Achieving class leadership - while also meeting requirements for sales price, fuel efficiency and manufacturability - demanded new thinking and new approaches to body construction, vehicle aerodynamics and chassis design. The development team rallied around the core project slogan 'otokomae' to create a strong clarity of purpose. Otokamae embodies a sense of grace and elegance as well as an inner beauty.
The development team conducted extensive real-world benchmark testing, including assessment of European luxury vehicles, in setting the targets for ride, handling, steering and NVH, as well as interior quality and overall refinement.
The all-new Civic has been engineered from the ground up to fulfil the promise of agile and rewarding dynamics. A lightweight, highly rigid bodyshell - the product of innovative new engineering and construction techniques - complements the lower centre of gravity and a sophisticated new suspension system in contributing directly to an engaging and fun driving experience.
The new wider, longer platform results in class-leading interior space. The entirely new interior features a simple, uncluttered layout, new technologies, exceptional refinement and high-grade materials. The seating position is a major change against the ninth generation car, sited lower to give the driver a greater feeling of connection with the car, enhanced by greatly improved visibility to the front of new Civic. The new Civic builds on the model's reputation for combining unrivalled passenger and luggage space with versatile, practical usability. The second-generation of Honda's infotainment and connectivity system incorporates Apple CarPlay and Android Auto integration.
Outstanding real-world efficiency and refinement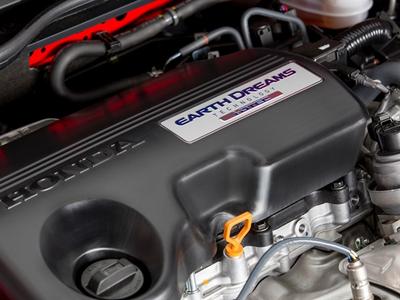 Comprehensively revised 1.6 i-DTEC diesel engine delivers outstanding real-world efficiency and refinement
Athletic response, low CO2 emissions and high real-world fuel economy
Friction-reducing technologies improve refinement and contribute to lower NOx emissions
New forged steel pistons reduce cooling loss within the engine block
Upgraded engine assembled at Honda UK Manufacturing in Swindon
Honda has comprehensively revised its 120 PS 1.6 litre i-DTEC diesel engine for the all-new Honda Civic range, offering an outstanding combination of performance and efficiency. The development objective for this engine upgrade was to deliver an athletic response and agile feeling for the driver, greater refinement through precision technologies, and lower levels of NOx emissions.
The four-cylinder 1,597cc i-DTEC diesel engine provides maximum power of 120 PS (88 kW) at 4,000 rpm and maximum torque of 300Nm (221 lb ft) at 2,000 rpm, powering the Civic from zero to 100 km/h (62 mph) in 10.5 seconds. CO2 emissions (under the updated NEDC test conditions1) are from 91 g/km (Civic saloon) and 93 g/km (Civic Hatchback), when equipped with the six-speed manual transmission. Combined fuel economy figures under the updated test conditions[1] are 3.4l/100 km (saloon) and 3.5l/100 km (Hatchback).
The improvements to the 1.6-litre diesel include enhancements to reduce cylinder friction, improve the efficiency of NOx conversion, and to further develop the drive-ability of the car. Honda's engineers have employed new production processes, introduced different materials, and sourced next-generation components to deliver a comprehensively-revised engine.
Development driving of the new Civic diesel was carried out through extensive on-road testing across Germany and UK.
Lightweight aluminium structure
Honda's 1.6-litre i-DTEC engine is comprised of a lightweight aluminium cylinder head joined to an all-aluminium, open-deck, high-pressure, die-cast engine block to minimise the engine's weight.
In the revised i-DTEC unit, the external design has been enhanced, with additional cast ribs added to the surface of the cylinder block. These ribs increase structural rigidity and, consequently, improve the management of noise, vibration and harshness.
The lightweight dual-overhead camshaft (DOHC) cylinder head is made of pressure-cast aluminium alloy. In this re-engineered unit, the head requires less reinforcement thanks to improved cooling in the block, so the thickness - and therefore weight - of the aluminium structure has been reduced. The new component is 280 grams lighter than in the previous generation 1.6-litre i-DTEC, representing a 2% reduction.
Pistons and connecting rods
In the previous 1.6 i-DTEC, the pistons were made from aluminium. In the revised i-DTEC engine, the pistons are manufactured from steel. The use of forged steel reduces cooling loss. It prevents thermal energy from escaping to the engine block and makes it possible to improve thermal efficiency. This change enables the cylinder head to be thinner and lighter, but with no detriment to durability. A high-strength, lightweight slender crankshaft is also used to further minimise weight.
Friction-reducing technology
A key target for Honda's development engineers working on the previous 1.6 i-DTEC was to reduce the mechanical friction of the diesel engine to the level usually associated with a petrol engine. With this new, revised 1.6 i-DTEC unit, the development has been taken a step further, with additional friction-reducing technologies.
The new 1.6 i-DTEC engine features 'super plateau honing', which lowers the friction level between the pistons and the cylinder bores by creating an ultra-smooth surface. Plateau honing is a two-stage machining method that uses two grinding processes instead of the more conventional single honing process. This also enhances the long-term wear characteristics of the engine.
Lower friction generates less heat, and so the plateau honing also contributes to a lower maximum combustion pressure (Pmax) in the cylinders: from 15.8 MPa in the previous 1.6 i-DTEC to 14.6 MPa in the newly-revised engine. By lowering temperature and pressure during combustion, Honda has been able to improve fuel economy from the 1.6 i-DTEC engine, even while introducing additional technologies to reduce the NOx produced - which would typically increase fuel consumption.
Smoother internal mechanisms help to improve efficiency; they also improve the engine's response, making the car feel more athletic to drive.
Next-generation efficient turbocharger
The revised 1.6 i-DTEC employs a turbocharger with a new design. It features a highly efficient variable-nozzle design and its rotational speed is precisely controlled by the car's electronics, minimising turbo lag and providing an optimal combination of low- to mid-range pull and high-speed performance. Energy loss from the system is lower than in the previous i-DTEC, thanks to a new design of compressor in the turbocharger.
Efficient fuel injection system and engine air flow
The 1.6-litre engine uses a solenoid fuel injection system that is capable of operating at a high pressure of 1800bar. The higher the fuel pressure, the more rapidly it is injected, with finer atomization of the fuel spray that mixes with the air in the chamber. This results in a cleaner and more efficient combustion helping to achieve low emissions and fuel consumption.
The i-DTEC's cylinders have high volumetric efficiency, featuring a high-intake flow and a high-swirl head port that precisely controls the combustion process to reduce hot spots that create unwanted emissions. The engine air flow is managed by using an EGR (Exhaust Gas Recirculation) system that operates at high and low pressure to reduce NOx emissions.
Honda has made a number of adjustments to the injectors to reduce emissions. The addition of post injection at lower ambient and coolant temperature increases the exhaust temperature and enables earlier activation of the catalytic converter, and an increase in pilot injection frequency also helps to reduce NOx levels., when regeneration of the particulate filter may occur, multiple post injections have been applied to reduce oil dilution and help to maintain efficient engine performance.
Low emissions technology
Honda's new 1.6 i-DTEC is one of the first engines to be officially tested through the Real Driving Emission (RDE) procedure to validate NOx and particulate emission levels. The diesel powertrain has a new NOx Storage Converter (NSC) system with a higher processing cell density, which enables faster conversion and a reduction in emissions. A silver thin-coated particulate filter further improves the combustion efficiency of particulate matter and increases the combustion speed of soot under regeneration, extending exhaust component durability, due to shorter heat production in the particular filter.
Real Driving Emission (RDE) tests measure the pollutants such as NOx emitted by cars while driven on the road. RDE tests run alongside the laboratory-based test cycles such as NEDC and WLTP to ensure the delivery of low emissions from vehicles during on-road conditions throughout Europe.
Idle Stop-Start
The Civic 1.6-litre i-DTEC is fitted with Honda's Idle Stop system as standard. The system reduces overall fuel consumption and helps to deliver CO2 emissions of just 91 g/km (Civic saloon) and 93 g/km (Civic Hatchback), when equipped with the six-speed manual transmission (under the updated NEDC test conditions)[1].
Revised six-speed manual transmission
A smooth and precise shift feel results from an enhanced synchroniser ring in the synchromesh gear of the six-speed manual transmission. The gear change friction is reduced by 40 percent compared to the previous generation Civic and is among the class best.
A constant-mesh helical reverse gear mechanism significantly reduces noise, and the dual mass flywheel also contributes to improved management of noise, vibration and harshness.
A nine-speed automatic transmission will bolster the Civic's powertrain options from mid-2018, representing its first ever application in a two-wheel drive car.
Manufactured in the UK
Honda UK Manufacturing (HUM) - the global production hub for the Civic hatchback and 1.6 i-DTEC engine.
All-new Civic hatchback is built in Europe and exported globally
New 1.6 i-DTEC engine also manufactured in Europe at HUM
270m investment in new production technologies and processes
Honda's UK plant in Swindon continues key role in Civic production
The tenth-generation Civic family is the product of Honda's largest-ever global development programme for a single model. The car has been designed to exceed European standards and expectations - thereby meeting the needs of all global regions where the new Civic is sold.
The Civic is an important model for Honda in Europe and is a key driver for the company's strong sales and manufacturing heritage in the region. For many European customers, Civic is synonymous with the Honda brand. The all-new Civic hatchback continues this tradition, and will play a key role in meeting Honda's volume aspirations for its European business.
Honda's European production facility, Honda of the UK Manufacturing (HUM), is the global production hub for the tenth-generation Civic hatchback. Honda made investments of 270m in new production technologies and processes to prepare for the new model, which is being exported around the world, including to the US. The investment is part of a long-term vision for the European plant in Honda's global operations.
HUM produced its first engine in 1989 and its first car in 1992. It now consists of two car plants and an engine manufacturing facility. Other areas of the site are dedicated to a purpose-built test track, dynamic and static test cells, as well as administration and purchasing functions.
Premium paint quality
To ensure the quality of the paint finish complements the high quality exterior design, Honda has invested in new paint facilities at HUM. The quality of the finish from the new paint shop is class-leading thanks to improved paint thickness and a new type of clear coat application. The combination of these two enhancements is an improved depth and quality of gloss shine, and an enriched reflection characteristic. The changes mean that new Civic achieves levels of paint quality and finish close to the standards achieved by Honda's premium US Acura brand.
By establishing HUM as a global production facility for the all-new Civic hatchback, Honda demonstrated its long-term commitment to manufacturing in the UK and Europe.
Generous standard equipment and comprehensive accessories
Generous standard equipment across the range, with comprehensive accessories and option packs to add style, technology and functionality. The all-new Civic is available with a wide variety of accessory packs and individual accessories allowing owners to enhance or adapt their car to suit their personal requirements and tastes.
1.6 litre i-DTEC hatchback
The 1.6-litre i-DTEC hatchback model is available in four grades: S, Comfort, Elegance and Executive.
The entry-level S grade is generously equipped, and includes automatic headlights, adaptive cruise control and the Honda SENSING suite of advanced active safety technologies.
The next level up is Comfort grade and adds heated front seats, heated door mirrors, an eight-speaker audio system, 16-inch alloy wheels and air conditioning.
Elegance models benefit from the Honda Connect infotainment suite, 17-inch alloys, front and rear parking sensors, rear parking camera and dual-zone air conditioning.
The top Executive grade feature leather upholstery, LED front headlamp clusters, smart keyless entry and start, power tilt panoramic sunroof, and premium audio system (11 speakers with 465 watts output). Executive grade models are also fitted with the Dynamic Damper Control system.
Silver Line, Black Line and Orange Line styling packs
The new Civic Silver Line is a sporty and stylish new edition to the Civic range. It features unique details that comprise of a front skirt, side skirts, a rear diffuser, mirror caps and dramatic 18" optional alloy wheels.
To further enhance the stand-out visual impact of the all-new Civic hatchback models, customers have a choice of two optional exterior styling finishes: Black Line and Orange Line.
The Black Line and Orange Line add a front chin spoiler, side skirts and rear diffuser, as well as mirror caps in either black or orange. Orange Line also includes interior accents across the dashboard in the same vivid colour.
1.6 litre i-DTEC saloon
The 1.6-litre i-DTEC saloon model is available in three grades: Comfort, Elegance and Executive.
The entry-level Comfort grade is fitted as standard with 16-inch alloy wheels, automatic headlights, adaptive cruise control, heated front seats, an eight-speaker 180-watt audio system and the Honda SENSING suite of advanced active safety technologies.
Additional equipment on Elegance models includes the Honda Connect infotainment suite, dual-zone automatic air conditioning, 17-inch alloys, front and rear parking sensors, and a rear-view parking camera.
Top-grade Executive cars benefit from the addition of leather upholstery, LED front headlamp clusters, wireless charging for Qi-compatible devices, Garmin satellite navigation, rear heated seats and a premium audio system (10 speakers with 452-watt output).
Technical specifications
All technical information is preliminary and subject to change
All fuel consumption and CO2 figures are subject to final homologation
Body and chassis
Five-seat, five-door hatchback or four-door saloon, with unitary construction bodyshell. Diesel engine with six-speed manual transmission driving the front wheels.
Engine
| Category | 1.6 litre i-DTEC Four cylinder diesel 6MT |
| --- | --- |
| Type | 4 valves per cylinder |
| Bore x stroke | 76mm x 88mm |
| Compression ratio | 16:1 |
| Power | 120 PS (88 kW) at 4,000 rpm |
| Torque | 300 Nm (221 lb ft) at 2,000 rpm |
Transmission
| Category | 1.6 litre i-DTEC |
| --- | --- |
| Manual 6MT | 6 forward speeds + reverse |
| Gear | Ratio |
| 1st | 3.642 |
| 2nd | 1.884 |
| 3rd | 1.179 |
| 4th | 0.869 |
| 5th | 0.705 |
| 6th | 0.592 |
| Reverse | 3.673 |
| Final Drive | 3.571 |
Suspension and damping
| Category | Hatchback | Saloon |
| --- | --- | --- |
| Front | MacPherson Strut | MacPherson Strut |
| Rear | Multi-link | Multi-link |
| | Adaptive damper control (on some models) | |
Brakes
| Category | Hatchback | Saloon |
| --- | --- | --- |
| Front | 293 mm ventilated disc | 282 mm ventilated disc |
| Rear | 282 mm solid disc | 260mm solid disc |
Wheels and tyres
| Wheel Size | Hatchback - Front | Hatchback - Rear | Saloon - Front | Saloon - Rear |
| --- | --- | --- | --- | --- |
| x 16-inch | 215/55 R16 | 215/55 R16 | 215/55 R16 | 215/55 R16 |
| x 17-inch | 235/45 R17 | 235/45 R17 | 215/50 R17 | 215/50 R17 |
Steering
| Category | Detail |
| --- | --- |
| Engine | 1.6 litre i-DTEC |
| Type | Variable-ratio rack and pinion |
| Steering turns (lock to lock) | 2.2 |
| Turning circle (at wheels) | 10.6 metres |
| Turning circle (at body) | 11.3 metres |
Dimensions (mm)
| Exterior | Hatchback (mm) | Saloon (mm) |
| --- | --- | --- |
| Overall length | 4,518 | 4,648 |
| Overall width | 1,799 | 1,799 |
| Overall width (including door mirrors) | 2,076 | 2,076 |
| Overall height | 1,434 | 1,416 |
| Wheelbase | 2,697 | 2,697 |
| Track (front) | 1,547 | 1,547 |
| Track (rear) | 1,575 | 1,575 |
Capacities (litres)
| Body type and specification grade | Hatchback (litres) | Saloon (litres) |
| --- | --- | --- |
| Luggage (VDA method; seats up, to window) | 414 | 519 |
| Luggage (VDA method; seats down, to roof) | 1245 | - |
| Subtrunk capacity (where present; included in measurements above) | 64 | - |
| Fuel tank capacity | 46 | 46 |
Weights (kg)
| Transmission | Hatchback 6MT | Saloon 6MT |
| --- | --- | --- |
| Curb weight (kg) | 1,287-1,301 | 1,314-1,366 |
| Max. Permissable Weight (kg) | 1,710 | 1,800 |
Performance and fuel consumption for 1.6 litre i-DTEC
| Transmission | Hatchback | Saloon |
| --- | --- | --- |
| Maximum speed (km/h) | 201 | 201 |
| 0-100 km/h (seconds) | 9.8 | n/a |
| Fuel consumption urban (l/100 km) NEDC test | 3.6 | 3.5 |
| Fuel consumption extra urban (l/100 km) NEDC test | 3.4 | 3.4 |
| Fuel consumption combined (l/100 km) NEDC test | 3.5 | 3.4 |
| CO2 combined (g/km) | 93 | 91 |
Further information
Related
---
Honda internal data on the NEDC cycle according to Regulation (EC) No 692/2008 with the tightened test conditions prescribed by Regulation (EU) 2017/1153. ↩