Honda Civic Type R Wins What Car? Hot Hatch of the Year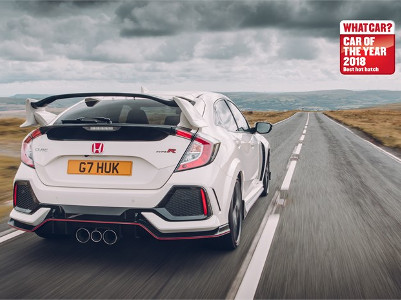 Honda Civic Type R Wins What Car? Hot Hatch of the Year
Civic Type R excels with yet another Hot Hatch of the Year award
Made in Swindon, the new Civic Type R is British built and exported world wide
The British built Honda Civic Type R has won the coveted What Car? Hot Hatch of the Year.
First unveiled as a surprise entry prototype at the Paris Motor Show at the end of September 2016, the mass production version Civic Type R went on sale last summer.
Available for under £300 a month, the Civic Type R has a top speed of 169mph and can do the 0-62mph sprint in just 5.7 seconds. The power comes from the 2.0-litre VTEC TURBO engine that has been optimised and refined to produce 320 PS with peak torque of 400 Nm.
Held in association with Warranty Direct and widely acknowledged as the 'Oscars' of the car industry, the annual What Car? Car of the Year Awards are only given to the cars that set the highest standards in their class each year. These awards are highly important for both car makers and customers because of the authority and integrity of the What Car? brand.
The car was awarded the Reader's Award at the 2017 What Car? Awards for being the most eagerly anticipated car launch and now it follows that with a win in the 2018 awards for best Hot Hatch.
Phil Webb, Head of Car at Honda UK, commented:
Starting a new year with a win at one of the most prestigious automotive awards ceremony is a wonderful achievement; soon we won't have space in the trophy cabinet for all the accolades the new Civic Type R has won. In 2017 we celebrated 25 years of Type R, reminding people of some of the greatest cars Honda have ever made, cars like the Integra Type R which was hailed the best handling front wheel drive car ever; it seems now the Integra has had to concede its crown to the new Civic Type R.
Steve Huntingford, editor at What Car? added:
The fact that the Civic Type R lapped our test track faster than all its rivals is deeply impressive. But it isn't a car that sacrifices fun at the altar of sheer ability. Quite the opposite, in fact: it's enormously enjoyable to drive, feeling incredibly precise and balanced through corners. And it even offers a comfortable ride.
Further information
Our Civic Type R 2017 demonstrator has arrived and is available for customer demonstrations.
If you would like to have a test drive, please contact our Sales team on 01932 874411. For further information, please see:
Please also consider reading Honda's official press release, which includes much technical information that is likely to be of interest to a prospective Type R customer.