Hospice room naming to mark 26 years' of partnership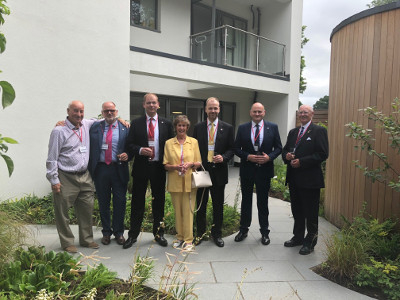 In loving memory of Michael Roberts, Woking & Sam Beare Hospices is delighted to announce that one of its 20 bedrooms at newly built Woking Hospice will be named after the late Mr Roberts, whose family have supported the Surrey-wide hospice for over two-and-a-half decades.
Held on Wednesday 20th June, the hospice held a special room naming ceremony to mark the extraordinary life of Michael Roberts, who was the father of Mark, Richard, Christopher and James Roberts and founder of Trident Honda, the family run community car dealership in Ottershaw which has been a corporate partner of Woking & Sam Beare Hospices since 1992. Also in attendance for the naming of the room were Terry Smith and Tony Usher representing Woking Rotary Club who over the years have been hugely supportive of the hospices and have now funded the hoist for Room 20.
Jayne Cooper, CEO of Woking & Sam Beare Hospices, comments:
The Roberts family have been supporters of the hospice for many years and our corporate partnership with Trident Honda has now reached a milestone. After 26 years' of partnership their time and generosity has raised in excess of £250,000 to help us to continue to deliver specialist palliative care to thousands of patients and their families across Surrey. We are proud and delighted to be able to honour Michael Roberts's legacy by naming room 20 after him.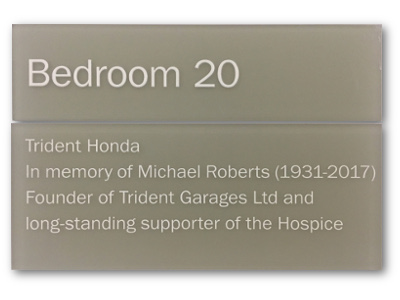 Michael Roberts was cared for at the original Woking Hospice in Hill View Road, where he passed away peacefully last Spring. He and his family, over many years, have always supported the hospice and in more recent years' Trident Honda has been the proud sponsor of the hospice's flagship events - the Midnight Walk and the Dragon Boat Race.
Richard Roberts, Managing Director of Trident Honda, adds:
When the Hospice team stepped in and supported our father it was as if a weight had been lifted from our shoulders. Until you experience what the Hospice team deliver at such a difficult time, you can't truly understand how much we as a community need the Woking & Sam Beare Hospice. Our mother and all four sons will be ever grateful for the dignity and respect given to Michael last year!
The extent of the Roberts family's support is unique and goes far beyond the money they have raised and donated. Richard Roberts himself gives his time for free initially with the Capital Appeal Committee and now having joined Woking & Sam Beare Hospices' Board of Trustees last year.
Jayne adds:
It was a great honour to have cared for the late Mr Roberts. Our team of specialist healthcare professionals deliver the highest standard of care to patients who very often have complex life-limiting conditions. We could not do all we do without the support of our community and families like the Roberts. Trident Honda have given so much to the hospice and we are fortunate to have the expertise of Richard Roberts on our Board. Being able to name a room after his father is a mark of our respect and appreciation. On behalf of all of us at Woking & Sam Beare Hospices, I thank the whole family for all they have done over many years.
There are many ways that the community can support their local hospice, including signing up for the Midnight Walk, which this year is on Friday 28 September.
For more information about Woking & Sam Beare Hospices or to find out how you, or your company, can get involved please visit the charity's website at http://www.wsbhospices.co.uk.