Civic Type R claims Best Hot Hatch at Auto Express Awards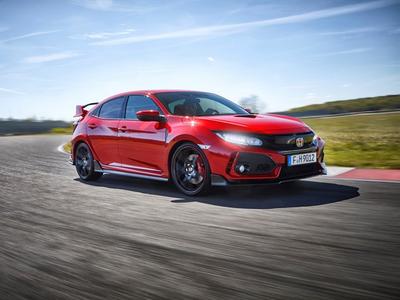 The British-built Honda Civic Type R has taken home another trophy, this time at the 2018 Auto Express Awards, taking the title of Best Hot Hatch for the second year running.
Widely acknowledged as one of the most prestigious awards of the car industry, the annual Auto Express New Car Awards are given to the cars that set the highest standards in their class each year. These awards are highly important for both carmakers and customers because of the authority and integrity of the Auto Express brand.
Built in Swindon, the Civic Type R shares the same fundamentals as the new Civic hatchback and has been engineered from the ground up to deliver the most rewarding drive in the hot-hatch segment - both on road and on the racetrack.
Phil Webb, Head of Car at Honda UK, commented:
Demonstrating its huge popularity and that front wheel drive still rewards drivers in an increasingly competitive sector, the British-built Civic Type R shows no sign of ending its winning streak; collecting award after award. This is the second year running the car has won Best Hot Hatch at the Auto Express awards. I've just had to order another trophy cabinet!
Steve Fowler, Editor-in-chief at Auto Express added:
For a second straight year the Honda Civic Type R has fought off an incredibly tough group of rivals to take the title of Auto Express's Best Hot Hatch. That's thanks in part to the pure front-wheel-drive layout and manual gearbox, which put you at the heart of the action. The Civic Type R's first-class engineering makes it as exciting and entertaining as a hot hatch can be.
Currently available for under £300 a month, the Civic Type R has a top speed of 169mph and can do the 0-62mph sprint in just 5.7 seconds. The power comes from the 2.0-litre VTEC TURBO engine that has been optimised and refined to produce 320 PS with peak torque of 400 Nm.
Further Information
If you would like to have a test drive, please contact our Sales team on 01932 874411. For further information, please see:
Please also consider reading Honda's official press release, which includes much technical information that is likely to be of interest to a prospective Type R customer.