Honda Civic Type R sets new lap record at Estoril circuit in Portugal, driven by Tiago Monteiro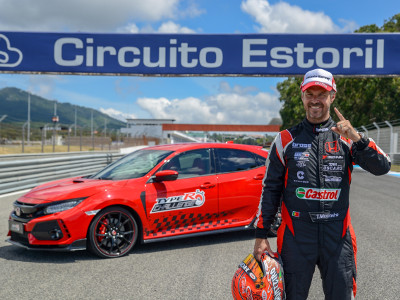 Following three successes in the Honda Civic 'Type R Challenge 2018' at the Magny-Cours, Spa-Francorchamps and Silverstone circuits, Honda has set a new 2min 01.84sec record for a front-wheel drive production car in the Civic Type R at the Estoril circuit in Portugal. The high-performance hatchback was driven by Honda WTCR driver, Tiago Monteiro.
The iconic Estoril track is 4.2km long with two hairpins, a difficult chicane and a very long main straight, which means drivers experience an unusually broad range of speeds over one lap. It therefore rewards cars with a great breadth of ability, that combine fast acceleration with exceptional handling. The Civic Type R proved to be superbly matched to the circuit, with its 320 PS VTEC TURBO engine providing outstanding pace, and its sophisticated suspension and steering systems delivering fast, stable handling, as Monteiro powered his way to a new front-wheel drive lap record.
Speaking about the benchmark time, Tiago Monteiro said:
We came here with a goal to beat the existing lap record set by the previous car but you can never take anything for granted - I mean it's a lap record so it's no easy feat. You have to have supreme confidence in the car to attack around Estoril, and the new Type R is just so powerful, smooth and confidence-inspiring. We beat the lap record, smashed the record actually.
Commenting on the Type R itself, he added:
The Type R is very stable and has very good braking efficiency and an amazing engine so it just feels like you are driving a race car - on the track it's easy to forget that it's a proper road car, but then you can drive it home. The new Type R is a big evolution. I mean we're talking about a totally different car in terms of design, aero, suspension, geometries, engine, but more than anything the feeling of driving the car.
The new benchmark time at Estoril is the fourth front-wheel drive lap record set by Honda in 2018. The Civic Type R has also claimed record lap times at Silverstone, Spa-Francorchamps and Magny Cours. So far in 2018, Honda has exceeded the times it set at all of these circuits.
The endeavour mirrored a similar effort by Honda in 2016 with the previous-generation Type R, which set front-wheel drive benchmark times at Estoril, Hungaroring, Silverstone and Spa-Francorchamps. The 2018 Type R Challenge followed on from the front-wheel drive production car lap record set by the Civic Type R at the Nürburgring Nordschleife, where it clocked a lap time of 7min 43.8sec in April 2017.
The latest car to sport the famous 'red H' is part of the all-new tenth-generation Civic's development programme - the largest in Honda's history - and was newly engineered to deliver the most rewarding drive in the hot hatch segment, both on road and on the race track. It features a lightweight, highly rigid bodyshell, low centre of gravity, and sophisticated dual-axis strut front suspension system, which reduces torque steer and enhances on-the-limit cornering.
Further information
If you would like to have a test drive in the new Honda Civic Type R, please contact our Sales team on 01932 874411.