Trident Honda Otters achieve best ever result at Woking Swimathon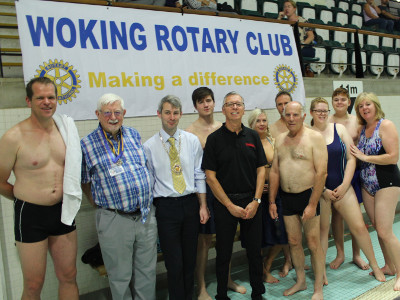 Woking Rotary Club held their 11th annual Swimathon event at the Woking Pool in the Park on Sunday 14th October 2018.
The Swimathon was opened by Cllr Will Forster, Mayor of Woking, and Rotary President Richard Sanderson early on Sunday morning and teams of 6 people arrived throughout the day to make their charitable contribution swimming as many pool lengths as they could over 55 minutes.
Trident Honda has been the main sponsor for the event every year since its inception 11 years ago. This year we also had two teams competing in the event - The Trident Honda Otters: one team comprising Louise Vincer, Erin Dethick, Finn Dethick and Peter Vincer, managed 110 lengths of the pool; the other team comprising Chris Monk, Mathew Brough, Justin Creber and Charlotte Cawser, managed 114 lengths of the pool.
The Trident Honda Otters managed to raise £265 between them in sponsorship for the event. Our team captain, Mary Spicer, reports:
Whilst I was unfortunately unable to swim myself this year, the Trident Honda Otters did me proud with a combined 224 lengths completed - our best ever result.
This year 51 teams of adults and children from local schools and many community organisations swam their hearts out for their sponsors' donations, achieving huge numbers of completed lengths of the pool and providing a healthy rivalry and enjoyable competition for this event. All participants received a medal in recognition of their efforts.
Woking Rotary has raised £120,000 over the last 10 years from this event, for which every penny is donated to different charities each year. The local charities which will be benefiting from this year's Swimathon are: The Mayor of Woking's Charity for 2018/19 (York Road Project); Your Sanctuary; Friends of Woking High School; Dementia Carers Support Group; and The Friends of Woking Community Hospital.
Our dealer principal, Steve Henderson, who was also present on the day, said:
Thank you to the Woking Rotary Club for organising yet another fantastic event in support of the local community. Trident Honda is proud to be associated with the Woking Swimathon.