Honda announces new HR-V Sport with 1.5 VTEC TURBO engine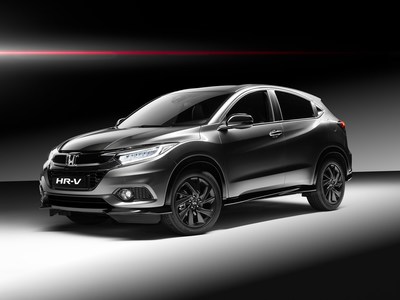 Honda has revealed details of the new HR-V Sport. This new grade for the revised 2019 model is equipped with the more powerful 1.5-litre VTEC TURBO petrol engine as well as dynamic upgrades to the chassis and suspension. The HR-V Sport also benefits from the refreshed exterior styling and interior upgrades of the standard 2019 HR-V, with additional bespoke design features.
New version for HR-V range equipped with 182 PS petrol engine
Sport grade car fitted with advanced 'Performance Damper' technology
Dynamic styling pack with black chrome elements; 18-inch alloy wheel
The 1.5-litre VTEC TURBO engine in the new HR-V Sport was first seen in the latest generation Honda Civic. The muscular four-cylinder engine gives the 2019 HR-V enhanced performance, with peak power of 182 PS (134 kW) at 5,500rpm for 6MT and 6,000 rpm for CVT (Automatic). Equipped with a six-speed manual (6MT) as standard, maximum torque of 240 Nm is delivered between 1,900 rpm and 5,000 rpm. With the optional CVT, 220 Nm is delivered between 1,700rpm and 5,500 rpm.
Honda has developed the HR-V Sport to cater to buyers who want a more dynamic driving experience. As part of a package that aims to deliver an optimised balance of body rigidity, suspension control and steering feel, the HR-V Sport is equipped with bespoke 'Performance Damper' technology. The damper system is integrated at the front and rear of the car and works by counteracting the relative lateral and torsional movement through the chassis. It keeps the car flatter through corners, enhances stability during sudden lane changes, and reduces vibration over uneven roads.
The steering set-up is unique to the model, employing a variable ratio electric power-assisted rack-and-pinion system, which is complemented by Honda's Agile Handling Assist technology. It delivers a steady response at on-centre and near-centre steering angles, and a smoother response at off-centre steering angles.
Upgrades to the elegant exterior design include a new interpretation of Honda's 'Solid Wing Face' graphic, with a high-gloss black chrome panel that replaces the darkened chrome of the standard 2019 HR-V. An exclusive black honeycomb finish is applied to the front grille garnish, which also carries over into the fog light surrounds.
The HR-V Sport comprises dynamic styling elements, including a slim front splitter, side skirts, plus wheel arch mouldings and a more aggressive rear bumper - all finished in black. Sport trim also includes black door mirror caps, dual exhaust pipes and 18-inch alloy wheels in a unique design.
LED headlights come as standard and incorporate high and low beams, LED indicators and LED daytime running lights. At the rear, a black chrome garnish across the tailgate mirrors the trim at the front, while the tail lights are enhanced with a dark 'smoked' effect and black inner bars as the standard 2019 HR-V.
Inside, new seats for the driver and front passenger - carried over from the standard 2019 HR-V - provide enhanced support in the seat cushion and back rest. The dynamic styling continues in the interior with exclusive combi seats in black & dark red combined with black roof lining to enhance the sporty appeal.
Production of the 2019 model year Honda HR-V Sport is set to start in December 2018, with the first customer deliveries in Spring 2019.