2018 Honda Jazz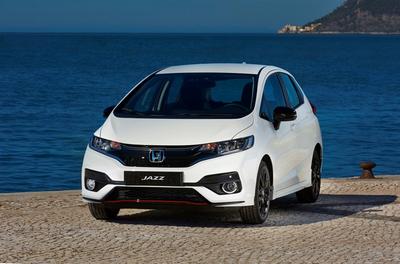 A unique blend of versatility, refinement and technology
Unrivalled interior space and outstanding versatility
New powerful and efficient 1.5 i-VTEC petrol engine
Bold, sporty exterior design and new Sport grade
Lightweight, rigid chassis delivers a dynamic driving experience
Comprehensive suite of advanced safety features
The 2018 Honda Jazz, the latest version of the practical and popular sub-compact hatchback, retains a unique blend of space, versatility, refinement and technology.
While the new model retains the classic Jazz silhouette, it exhibits distinctive sporty styling upgrades, including a bold new 'family face', strong character lines, and the addition of a new Sport grade.
The Jazz follows Honda's 'man maximum, machine minimum' design concept. This concept aims to achieve a compact yet highly-efficient package through maximising the space for occupants, while minimising the space utilised by the car.
The four-metre long Jazz employs a centre-mounted fuel tank to allow for class-leading interior space and Honda's innovative packaging solutions. Honda's Magic Seats system ensures the interior offers unmatched versatility, with a range of configurations for carrying cargo and passengers.
Occupants also benefit from impressive refinement and advanced safety and infotainment technologies, as well as a highly efficient and dynamic driving experience.
High-quality soft-touch materials and thoughtful interior design provide a sophisticated ambience, complemented by a 7-inch touchscreen in the centre of the dash on higher grades, featuring Honda's infotainment system, Honda Connect.
The new Jazz is available with a choice of two powerful and efficient petrol engines - the familiar 102 PS 1.3 litre i-VTEC from Honda's Earth Dreams Technology series, as well as a new 130 PS 1.5 litre i-VTEC unit. The latter is offered in the Jazz for the first time in Europe, giving customers the option of a more powerful drivetrain.
A refined ride is allied to responsive and engaging handling thanks to a rigid and lightweight chassis, plus sophisticated suspension that has been specifically tuned for European roads.
As with all new Honda vehicles sold in Europe, the Jazz is fitted with active and passive safety technologies designed to make driving both easier and safer, including Honda's City-Brake Active system (CTBA) that helps to avoid or mitigate low-speed accidents.
Remarkable interior space and greater versatility
Optimal packaging provides class-best passenger and cargo space
Rear seat occupants enjoy unrivalled comfort and room to relax
354 litres of cargo capacity rises to 897 litres with seats folded
Magic Seats system offers four modes to maximise versatility
Wide tailgate and low load height ensure easy access
The application of Honda's 'man maximum, machine minimum' design philosophy ensures that the Jazz is a compact and highly efficient vehicle. A lightweight chassis employs optimised packaging solutions to provide best-in-class space for occupants and cargo. A low-profile fuel tank mounted under the front seats frees up underfloor space beneath the rear seats, enabling the platform to accommodate Honda's innovative Magic Seats system.
With its long wheelbase but compact overall footprint, the Jazz is endowed with class-leading interior passenger space: leg, shoulder and headroom in the front and rear are unrivalled in the segment.
The Jazz also gives customers class-leading cargo space. Boot capacity is 354 litres (VDA) with the rear seats in use and 897 litres (VDA) with the rear seats down. Furthermore, the Magic Seats in the rear of the Jazz - which split 60:40 - can adopt numerous configurations across four modes to maximise the versatility of the spacious interior.
Utility mode: the rear seat back folds forward as the seat base itself lowers into the rear passenger footwell, creating a 1,505 mm-long flat floor.
Tall mode: the front of the rear seat base rises up and back and is locked in a vertical position to leave a cargo height of 1,280 mm from floor to ceiling, allowing tall objects to be placed behind the front seats.
Long mode: the front passenger seat back folds back to a horizontal position, while the rear seat back folds forward, forming a 'tunnel' to accommodate items up to 2,480 mm long.
Refresh mode: the front seat back reclines to a flat position meeting the rear seat base to create a 1,580 mm-long 'couch', enabling occupants to sit in the rear and literally put their feet up after a long journey.
With a 1,090 mm wide tailgate and a low load height of just 605 mm, access to the boot is easy, while four tie-downs enable objects to be securely transported.
Lightweight, rigid chassis and dynamic suspension
Stiff platform with bodyshell and suspension tailored for Europe
Lighter suspension and new damper systems improve ride quality
Suspension set-up and Agile Handling Assist system minimise understeer
All-disc braking system ensures powerful and secure stopping
Building on the lightweight but rigid global platform, Jazz models for the European market exclusively feature a bodyshell with additional stiffening and Europe-specific suspension settings. The features are designed to maximise driving pleasure on typical continental roads by enabling the suspension and steering to function with the greatest possible precision.
Lightweight suspension components - MacPherson struts at the front and an H-type torsion beam at the rear - combine with the long wheelbase to provide an impressive base level of stability by naturally reducing pitching motions. Sophisticated damper systems also contribute to a comfortable ride for all occupants, and minimise the transmission of vibrations from the road into the cabin, generating a feeling of refined composure.
The front suspension geometry has a low front roll centre to enhance stability, which helps the Jazz feel precise, natural and agile when cornering. Its agility is further augmented by an electric power-assisted steering system, which delivers accurate feedback to the driver.
The sense of agile handling combined with optimised ride composure is further enhanced by Honda's Agile Handling Assist (AHA) system. AHA is another advanced technology that enhances the dynamic stability of the car, particularly when reacting to fast steering inputs or high cornering loads, such as are experienced during emergency avoidance manoeuvres.
AHA operates through the Vehicle Stability Assist (VSA) system and applies a light braking force, imperceptible to the driver, to the inner wheels when the steering wheel is turned. The result is increased vehicle responsiveness and stability, and a more satisfying driving experience.
Powerful and stable stopping power is ensured by the fitting of an all-disc braking system featuring 262 mm ventilated front discs and 239 mm solid discs at the rear. Electronic aids which boost braking power and enhance vehicle stability include: Anti-Lock Braking System (ABS), Electronic Brakeforce Distribution (EBD), Brake Assist (BA), VSA and Hill Start Assist (HSA).
Honda's all encompassing approach to NVH management ensures minimal engine, road and wind noise. The dashboard area of the body reduces noise paths, with gaps in the insulator pad reduced to the absolute minimum necessary. The steering wheel has a floated Supplemental Restraint System (SRS) module which acts as a dynamic damper, minimising micro-vibrations felt through the rim.
Aerodynamic covers under the vehicle minimise airflow noise, while helping to reduce drag to class-leading levels. The overall effect of Honda's engineering effort is that the Jazz feels and sounds peerlessly sophisticated, with reassuringly composed and refined dynamics.
New powerful and efficient 1.5 i-VTEC petrol engine
1.5 litre i-VTEC petrol engine available on Jazz for the first time
Maximum power of 130 PS and maximum torque of 155 Nm
Lightweight engine components and optimised piston shaping
CVT gearbox offers highest efficiency, average fuel economy of 52.3 mpg
The new Jazz is available with a 1.5 litre i-VTEC petrol engine for the first time in Europe. Combining a high output with low fuel consumption, the engine produces 130 PS (96 kW) at 6,600 rpm and maximum torque of 155 Nm at 4,600 rpm.
Honda's 1.5 i-VTEC petrol engine complies with stringent Euro 6 emissions standards, and achieves fuel economy of 52.3 mpg and CO2 emissions from 124g/km - when equipped with the optional CVT automatic transmission.
The new Jazz can accelerate from 0-to-62 mph in 8.7 seconds (manual) and 10.0 seconds (CVT). The CVT system itself has been revised to deliver a more linear and refined response under acceleration.
Honda's VTEC (Variable Timing and Lift Electronic Control) and VTC (Variable Timing Control) technologies combine with direct injection, strong tumble intake ports and an optimised piston shape to provide benefits in output and efficiency. Weight savings within the 1.5 i-VTEC are made through a reduction in weight of the crankshaft and the adoption of independent bearing caps.
A 102 PS (75 kW) 1.3 i-VTEC petrol engine will also continue to be available across all Jazz trim levels, apart from the new Sport grade. Maximum torque is 123 Nm at 5,000 rpm.
The 1.3 i-VTEC petrol engine employs a high-flow cooled EGR (exhaust gas recirculation) system, as well as electronic operation for the variable timing control camshaft (VTC), which optimises intake valve timing even with a cold engine. To maximise thermal efficiency, the compression ratio is 13.5:1.
The 1.3 i-VTEC engine has CO2 emissions starting from 106 g/km, while official average fuel economy stands at 61.4 mpg on the combined cycle (CVT).
For both petrol engines, two specific control programmes for the CVT transmission provide situation-specific assistance for the driver: Early Downshift During Braking (EDDB) and the 'Fast Off' system.
Early Downshift During Braking (EDDB) utilises the engine to assist the driver during braking. When the system recognises a deceleration, downhill, or cornering situation initiated by the braking system, EDDB automatically increases the engine speed to provide engine braking. This then allows for quick re-acceleration after slowing or quick acceleration after cornering.
The 'Fast Off' system measures how quickly the driver releases the accelerator pedal and maintains engine revs to provide engine braking in situations where the driver has released the pedal quickly. This system has been extensively tested for Europe's high speed, multi-lane roads. For example, Fast Off recognises when the driver has prepared to pass a vehicle in front, but is unable to complete the manoeuvre due to a vehicle in the next lane. As the driver quickly releases the accelerator pedal to let the vehicle behind pass by, Fast Off maintains a high engine speed in preparation for completing the overtaking manoeuvre.
The CVT gearbox allows the engine to operate within its most efficient range more of the time, by continuously varying the gear ratio instead of adjusting the engine throttle opening. Automatically managed by the engine management system, the CVT gearbox selects the optimal ratio within the simulated seven speeds depending on engine speed, throttle position and driver input.
Bold exterior styling and new Sport specification
Bold new face design with 'solid wing' grille common to the Honda family
Sportier exterior styling creates sophisticated, planted look
New Sport grade adds further enhancements to exterior and cabin
Addition of metallic Skyride Blue as a new colour option
Exterior changes for the new Jazz align it with the latest Honda family style, incorporating the 'Solid Wing Face' headlight signature and grille. The front bumper is sharply sculpted, with more aggressive contours around the air vents. At the rear, shallower grille sections are linked by a gloss black trim strip above a trapezoid lower section.
The new Jazz retains the familiar secure and planted silhouette, with bodyside cut-in swage lines that rise from the front wheel arch, and dynamic, sculpted side panels, to give a forward-leaning, purposeful stance. At the rear, the near-vertical rear window provides a strong aesthetic, while angular rear combination lamps accentuate the bold design. Compared to the previous generation Jazz, the revised model exhibits a bolder and sportier form.
A new Sport grade adds a thinner front splitter beneath the lower grille, and a triple-strake diffuser to the rear bumper - both finished with a sporty red accent line. Sport grade also includes LED headlights, front fog lamps, side sill skirts, a tailgate spoiler and gloss-black 185/55 R16 alloy wheels.
The new Jazz is available in four metallic paint finishes (Lunar Silver, Shining Grey, Brilliant Sporty Blue and Skyride Blue), two pearlescent finishes (White Orchid and Crystal Black) and two solid colours (Milano Red and Sunset Orange). Skyride Blue is a brand new colour option for the Jazz, and rounds off the updates to the exterior.
Inside, the cabin gives all occupants a sense of airy spaciousness thanks to a large windscreen that meets the roof panel a long way rearward. This, along with the large front quarter windows provides excellent forward visibility and admits plenty of light into the cabin, providing a comfortable outward view with an open, yet secure, feeling for all passengers.
The Jazz's cabin layout is designed with a functionality which encourages the driver to concentrate on driving, while also providing a passenger space in which to relax.
The centre panel is angled slightly towards the driver to provide good visibility and inspire confidence. Cabin user-friendliness is enhanced by the careful placement of key storage areas, together with two large-size cup holders in the front and a centre box in the front arm rest that is large enough to accommodate a tablet.
Quality materials within the cabin include high-grade, sophisticated black soft-touch dash and trim surfaces with premium detailing, contrasting upholstery materials and polished chrome trim accents.
On Sport grade vehicles, the interior features a unique pinstripe pattern on the upholstery and a leather-wrapped steering wheel and gear knob, all of which are enhanced by orange stitching.
The Jazz has wide range of adjustment for both steering wheel and front seats, offering ease and freedom in selecting a comfortable driving position.
The driver's side dashboard features an instrument binnacle with three dials, each of which is encircled with 'floating' illumination rings. Honda's ECO Assist function changes the backlight colour of the speedometer from white to green during fuel-efficient driving.
Steering wheel-mounted controls enable the driver to switch between various information views on an LCD multi-information display contained on the right-hand dial in instrument binnacle. As well as typical trip computer data, such as fuel economy, fuel range and journey time, the display will show 'interruption alerts' when some of the advanced active safety systems have been triggered.
Standard equipment on the Jazz includes cruise control, automatic LED headlights and the City-Brake Active safety system. A standard five-inch LCD audio display in the centre of the dash helps occupants control radio, CD or music from personal devices through the 180-watt four-speaker audio system.
Higher grades feature a 7-inch Honda Connect infotainment system, rear-view parking camera, keyless entry and start, as well as advanced safety technologies such as Forward Collision Warning, Lane Departure Warning and Traffic Sign Recognition.
Honda Connect has an app-based user interface with 'pinch, swipe and tap' functionality identical to that of a modern smartphone. It gives fast access to internet-based services, including real-time traffic information, news and weather, social media, and internet music stations. Honda Connect employs colour-coded icons to ensure that navigating through menus is quick and simple.
In addition, Honda Connect features extensive options for syncing with smartphones and other personal multimedia devices: WiFi, Bluetooth, HDMI, and MirrorLink - which 'mirrors' the screen of a connected compatible device, allowing it to be operated through the touchscreen.
The upper grade models of the Jazz feature a rear-view safety camera, which offers three modes: Normal view, Wide view and Top down view, with the image shown on the dashboard centre screen . The camera projects 'dynamic guidelines' that indicate the path that the car will take with the current steering angle.
Comprehensive suite of advanced safety features
Every Jazz comes with City-Brake Active to help avoid low-speed accidents
Advanced Driver Assist System features five active safety aids
Advanced Compatibility Engineering(tm) ensures outstanding passive-safety performance
As with all new Honda vehicles sold in Europe, the Jazz is fitted with a number of premium active and passive safety technologies designed to make driving both easier and safer.
Every new Jazz sold in Europe is equipped with Honda's City-Brake Active system (CTBA). Specifically designed to help avoid or mitigate low speed accidents, the system uses laser radar technology to scan the road ahead, automatically applying the brakes if an imminent risk of collision is detected. The system is designed to operate at speeds below 20 mph. If the system identifies that the risk of collision exists, then pre-braking as well as audible and visual warning will occur, eventually followed by full autonomous braking.
Honda's comprehensive suite of active-safety technologies known as the Advanced Driver Assist System (ADAS) is available as an option on the base model and is fitted as standard on mid and upper grades. ADAS includes: Forward Collision Warning, Traffic Sign Recognition System, Intelligent Speed Limiter, Lane Departure Warning and High Beam Support System.
Forward Collision Warning
Forward Collision Warning detects the risk of collision by recognising the vehicle (car or truck) directly in front, using the multi-purpose camera. The system operates when the car is at a speed of 9mph and above. On detecting the risk of collision, it will offer visual and audible warnings. The warning distance can be adjusted to the driver's preferences and the system can be turned off by the driver.
Traffic Sign Recognition System
Traffic Sign Recognition System uses the multi-purpose camera to detect road signs whenever the vehicle is moving forward. The system automatically recognises and displays the signs via the i-MID once the vehicle has passed the sign.
The system is designed to detect circular road signs displaying speed limits and 'No Passing' information. Two road signs can be displayed at any one time - the right side of the display only shows speed limit signs while the left shows 'No Passing' signs and speed limits with additional information; such as weather conditions, for example.
Intelligent Speed Limiter
Intelligent Speed Limiter combines two otherwise independent safety systems - Adjustable Speed Limiter and Traffic Sign Recognition system - resulting in an advanced safety assistance feature. The Adjustable Speed Limiter system - standard on every Honda car on sale in Europe - regulates the maximum speed of the vehicle at a level set by the driver.
With Intelligent Speed Limiter activated, the maximum speed of the vehicle is automatically determined by the prevailing legal speed limit detected by the Traffic Sign Recognition system. When the vehicle passes a sign indicating a lower speed limit, the vehicle will gently and automatically slow, through a reduction in power, to a maximum speed that does not exceed the speed limit. An alert sounds and the displayed speed limit blinks if the vehicle speed exceeds the limit by 2 mph or more.
The vehicle's maximum speed - regardless of the accelerator input by the driver - will not exceed this limit. When the vehicle passes a sign indicating a higher speed limit, it will allow the driver to accelerate until the vehicle reaches the new maximum permitted speed, at which point it will prevent the vehicle from exceeding the new speed limit. The system can be turned off by the driver at any time.
Lane Departure Warning
Lane Departure Warning uses the multi-purpose camera to track lane markings on the road. If the car deviates from its current lane without indicating, Lane Departure Warning alerts the driver with audible and visual warnings. The system can be turned off by the driver.
High Beam Support System
High Beam Support System works at speeds of more than 25 mph to switch High Beam head lights on/off automatically depending on oncoming/preceding vehicles (cars, trucks and motorcycles), bicycles and environmental brightness. The system can be turned off by the driver at any time.
Passive safety engineered into the structure
Every new Jazz incorporates Honda's proprietary Advanced Compatibility Engineering(tm) (ACE(tm)) body structure technology that forms the foundation for excellent passive-safety performance, enhancing occupant crash protection.
A network of connected structural elements distributes crash energy more evenly throughout the front of the vehicle, reducing the forces transferred to the passenger compartment. ACE(tm) also helps minimise the potential for under-ride or over-ride situations that can happen during head-on or offset frontal impacts with a larger or smaller vehicle.
Every new Jazz sold in Europe is equipped with a total of six airbags, maximising occupant protection. The front, side and full-length curtain airbags are all advanced 'intelligent' designs and are triggered only when absolutely necessary.
The Jazz is designed and engineered for safety, and achieved a high-scoring five-star rating when tested by Euro NCAP in 2015.
Technical specifications
Five-door, five-seat hatchback with unitary construction bodyshell. Choice of two petrol engines and a choice of two transmissions.
| Engine | 1.3 litre i-VTEC (petrol) | 1.5 litre i-VTEC (petrol) |
| --- | --- | --- |
| Type | 4 valves per cylinder | 4 valves per cylinder |
| Capacity (cc) | 1,318 | 1,498 |
| Bore x stroke (mm) | 73.0 x 78.7 | 73.0 x 89.5 |
| Compression ratio | 13.5 | 11.5 |
| Power | 102 PS at 6,000 rpm | 130 PS at 6,600 rpm |
| Torque | 123 Nm at 5,000 rpm | 155 Nm at 4,600 rpm |
| Transmission | 1.3 litre i-VTEC | 1.5 litre i-VTEC |
| Manual - speeds | 6 | 6 |
| CVT - speeds | Variable with 7 simulated 'gears' | Variable with 7 simulated 'gears' |
| Steering | Rack and pinion | Rack and pinion |
| Steering turns (lock to lock) | 2.67 (15-inch) / 2.52 (16-inch) | 2.52 |
| Turning circle (at wheels) | 4.9 m (15-inch) / 5.2 m (16-inch) | |
| Turning circle (at body) | 5.4 m | 11.1 |
| Wheel size | Tyres | Tyres |
| x 15-inch | 185/60 R15 84H | 185/60 R15 84H |
| x 16-inch | 185/55 R16 83H/V | 185/55 R16 83H/V |
Suspension and damping
| | Front | Rear |
| --- | --- | --- |
| Suspension | MacPherson Strut | H-type torsion beam |
| Brakes | Ventilated disc | Disc |
Dimensions (mm)
| Exterior | (mm) |
| --- | --- |
| Overall length | 3,995 |
| Overall width | 1,694 (including door mirrors) |
| Overall height | 1,550 (unladen) |
| Wheelbase | 2,530 |
Capacities (litres)
| Item | Litres |
| --- | --- |
| Luggage | 354 (seats up) / 897 (seats folded) |
| Fuel tank | 40 |
Weights (kg)
| Model | Kerb Weight (kg) |
| --- | --- |
| 1.3 litre i-VTEC 6-speed manual | 1066 |
| 1.3 litre i-VTEC CVT | 1092 |
| 1.5 litre i-VTEC 6 speed manual | 1104 - 1116 |
| 1.5 litre i-VTEC CVT | 1124 - 1136 |
Performance and fuel consumption
| Engine | 1.3 manual | 1.3 CVT | 1.5 manual | 1.5 CVT |
| --- | --- | --- | --- | --- |
| Maximum speed (mph) | 118 | 113 | 118 | 118 |
| 0-62 mph (seconds) | 11.2 | 12.0 | 8.7 | 10.0 |
| Fuel consumption | | | | |
| - Urban (mpg) | 46.3 (15") 45.5 (16") | 53.2 (15") 51.3 (16") | 39.2 (16") | 44.1 (16") |
| - Extra urban (mpg) | 65.6 (15") 62.7 (16") | 68.8 (15") 62.7 (16") | 55.4 (16") | 57.6 (16") |
| - Combined (mpg) | 56.4 (15") 55.3 (16") | 61.4 (15") 57.6 (16") | 47.9 (16") | 52.3 (16") |
| CO2 combined (g/km) | 116 (15") 120 (16") | 106 (15") 114 (16") | 133 (16") | 124 (16") |
Further Information