The all-new Honda CR-V Hybrid arrives at Trident Honda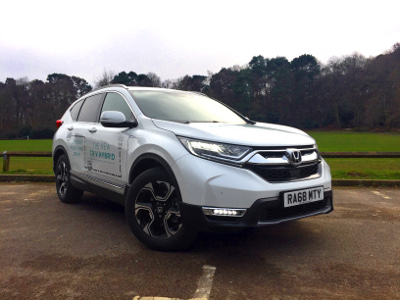 We are delighted to announce the arrival of our new 2019 Honda CR-V Hybrid demonstrator, see gallery below.
The Honda Hybrid Performance system is enabled by Intelligent Multi-Mode Drive (i-MMD) technology, comprising two electric motors, a power control unit, an efficient 2.0-litre i-VTEC Atkinson-cycle petrol engine, lithium-ion battery and an innovative fixed gear transmission delivering high levels of refinement, responsiveness and efficiency.
Honda's unique i-MMD technology intelligently and automatically switches between three driving modes to provide the highest possible efficiency when driving. These modes comprise:
EV Drive: where the lithium-ion battery supplies power to the electric propulsion motor directly
Hybrid Drive: where the engine supplies power to an electric generator motor, which in turn supplies it to the electric propulsion motor
Engine Drive: where the engine is connected directly to the wheels via a lock-up clutch.
The petrol-electric powertrain can propel the CR-V Hybrid from zero to 100 km/h in 8.8 seconds in FWD guise, and in 9.2 seconds for the AWD model.
The front-wheel drive CR-V Hybrid has achieved CO2 emissions of 120 g/km (correlated NEDC1) , with official average fuel economy of 5.3 l/100km (53.3 mpg). The four-wheel drive CR-V Hybrid achieved CO2 emissions of 126 g/km (correlated NEDC[2]) and average fuel economy of 5.5 l/100km (51.4mpg).
Gallery