2019 Honda HR-V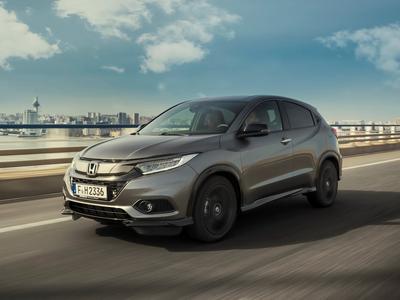 The new Honda HR-V features sportier exterior styling and various upgrades to the interior design and materials used. The new HR-V also benefits from a range of advanced technologies. The HR-V continues to offer the space and versatility of an MPV, but now benefits from enhanced driving dynamics and a wider choice of fuel-efficient engines.
From the first glance, the new HR-V's more elegant features are apparent - including a more substantial interpretation of Honda's 'Solid Wing Face' graphic.
Inside, the 2019 HR-V offers impressive interior space and - thanks to innovative features like Honda's Magic Seat system - high levels of versatility. High quality soft-touch materials and sophisticated design elements define the HR-V's interior as an optimal blend of practicality, refinement and the feel of a sporty, enclosed cockpit.
Elegant exterior design with the tough stance of an SUV
Honda's HR-V has a coupé-like profile, with a powerful nose and a dynamic and sporty look. Distinctive, sharply-defined lines run the length of the body, giving the HR-V a purposeful, forward-leaning stance and a sense of movement and agility.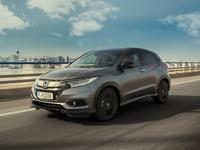 Strongly sculpted lower body panels are enhanced by deeper air intake sections in the front bumper that house circular fog lights, while the headlights now have projector lenses with LED daytime running lights as standard.
On higher-grade models, the wheels are upgraded to a new 17-inch alloy design, and the exhaust tailpipe has a unique chrome finisher. The headlights and rear lights are upgraded to full LED units, and the rear casings are enhanced with a dark 'smoked' effect.
HR-V retains outstanding aerodynamic performance. Beneath the vehicle, three covers (under the engine, front floor and rear floor) help to smooth and optimise air-flow, boosting fuel efficiency. They also enhance noise insulation for improved interior refinement. Aerodynamic development work focused on optimising front and rear aerodynamic lift to further improve vehicle stability at speed.
Honda will offer a choice of nine exterior colours for the 2019 HR-V, including the new additions of Platinum Grey Metallic (Sport only) and Midnight Blue Beam Metallic. The other colour choices comprise: Milano Red, Platinum White and Crystal Black in a pearlescent finish; and Lunar Silver, Modern Steel, Brilliant Sporty Blue and Ruse Black metallic hues.
2019 HR-V Sport
For the new HR-V Sport model, a high-gloss black chrome panel replaces the darkened chrome of the standard 2019 HR-V across the front. An exclusive black honeycomb finish is also applied to the front grille garnish, which carries over into the fog light surrounds.
The HR-V Sport is uniquely fitted with a dynamic styling pack, which comprises a slim front splitter, side skirts, wheel arch mouldings and a more aggressive rear bumper - all finished in black. It also includes black door mirror caps, dual exhaust pipes and 18-inch alloy wheels in a unique design. Sport grade cars are equipped with full LED headlight and tail light clusters, enhanced at the rear with a dark 'smoked' effect and black inner bars, as well as a black chrome garnish across the tailgate.
Enhanced line-up of efficient and powerful engines with an engaging drive
The new Honda HR-V will be available with a choice of powerful 130 PS (96 kW) 1.5-litre i-VTEC or 182 PS (134 kW) 1.5-litre VTEC TURBO petrol engines, or a highly efficient 120 PS (88 kW) 1.6-litre i-DTEC diesel ( available in selected markets only). Each of the four-cylinder engines are engineered to deliver responsive performance together with low fuel consumption.
1.5-litre i-VTEC petrol
With an optimal balance of power and efficiency, the 1.5-litre i-VTEC petrol engine produces 130 PS (96 kW) and maximum torque of 155 Nm. Acceleration from 0-100 km/h (0-62 mph) takes 10.2 seconds when equipped with the six-speed manual (6MT), and 11.7 seconds with the optional CVT. The i-VTEC engine has CO2 emissions from 148g/km1 (WLTP) (from 130g/km NEDC correlated) and combined cycle fuel economy from 6.6l/100km to 6.8l/100km2 (WLTP).
1.5-litre VTEC TURBO petrol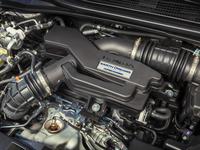 A new addition to the 2019 HR-V line-up is the powerful 1.5-litre VTEC TURBO engine, which was first seen in the latest generation Honda Civic. This power unit is only available on the new HR-V Sport . This four-cylinder engine gives enhanced performance, with peak power of 182 PS (134 kW) at 5,500 rpm.
The HR-V Sport 6MT accelerates from 0-100 km/h (0-62 mph) in 7.8 seconds and will go on to a top speed of 215 km/h (133 mph). When equipped with the optional CVT gearbox, acceleration from 0-100 km/h (0-62 mph) takes 8.6 seconds, and the top speed is 200 km/h (124 mph).
1.6-litre i-DTEC diesel
This efficient diesel engine incorporates extensive technologies that reduce friction, improve emissions and increase fuel economy. The 1,597cc engine features a small, high-efficiency turbocharger, low-pressure EGR (exhaust gas recirculation) system and a high-intake flow, high-swirl cylinder head port.
Powered by the diesel engine - the new HR-V accelerates to 100 km/h (62 mph) in just 10.0 seconds, placing it among the most dynamic vehicles in its class.
Both the petrol and diesel engines are equipped with a six-speed manual transmission as standard. A lightweight and high-rigidity shaft improves the overall efficiency of the transmission, while a shorter gear throw than other SUVs in the segment provides a sportier feel.
Responsive and refined CVT
Available as an option for the two petrol engines, the CVT offers a natural 'multi-gear' feel which simulates seven speeds and provides optimised gear changes.
Two software features also provide situation-specific enhancements. Firstly, Early Downshift During Braking (EDDB) utilises the engine to assist the driver during braking. When the system recognises a deceleration downhill, or in a cornering situation initiated by the braking system, EDDB automatically increases the engine speed to provide engine braking. This then allows for quick acceleration after controlled braking or after cornering.
Secondly, Fast Off measures how quickly the driver releases the accelerator pedal and maintains engine revs to provide engine braking in situations where the driver has released the pedal quickly. This system has been extensively tested for Europe's high speed, multi-lane roads. For example, Fast Off recognises when the driver has prepared to pass a vehicle in front, but is unable to complete the manoeuvre due to a vehicle in the next lane. As the driver quickly releases the accelerator pedal to let the vehicle behind pass by, Fast Off maintains a high engine speed in preparation for completing the overtaking manoeuvre.
Enhanced ride comfort and handling
HR-V also benefits from Honda's Synaptic Damping Control (SDC) system, introduced for the first time in the 2015 HR-V. Fitted to all models as standard, the system enhances both ride comfort and handling by modifying damping force according to the road surface and driving conditions.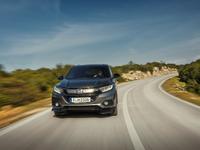 Dynamic tuning for the 2019 HR-V builds on a highly rigid platform and bodyshell, which includes high-strength steel for 27% of the body. The stiff bodyshell gives the standard suspension (MacPherson struts at the front and an H-type torsion beam at the rear) a solid foundation, which - together with a low centre of gravity and minimised body roll - delivers a reassuring solidity and inspires a feeling of security when driving.
The HR-V's motion adaptive electric power-assisted steering system helps to minimise understeer, working in parallel with the low roll centre at the front suspension and the higher roll centre at the rear.
Powerful and stable stopping power for the HR-V is assured with an all-disc braking system, featuring 293 mm ventilated front discs and 282 mm solid discs at the rear. Electronic aids which boost braking power and enhance vehicle stability include: Anti-Lock Braking System (ABS), Electronic Brakeforce Distribution (EBD), Brake Assist, Vehicle Stability Assist and Hill Start Assist.
Advanced technologies for HR-V Sport
Honda has developed the HR-V Sport model to cater for owners who want a more dynamic driving experience. As part of an upgrade package that aims to optimise the balance of body rigidity, suspension control and steering feel, the HR-V Sport is equipped with bespoke 'Performance Damper' technology.
The damper system, integrated at the front and rear of the car, is engineered to counteract the relative lateral and torsional movement through the chassis. It keeps the car flatter through corners, enhances stability during sudden lane changes and reduces vibration over uneven roads.
The HR-V Sport also boasts a bespoke steering set-up, employing a variable-ratio electric power-assisted rack-and-pinion system, which is complemented by Honda's Agile Handling Assist technology. It delivers a steady response at on-centre and near-centre steering angles, and a smoother response at off-centre steering angles.
Innovative and versatile interior space
Honda's team has balanced class-leading interior space, ease of use and storage space with dynamic and emotional design. HR-V boasts an interior packed with functionality but also with a sense of personal space and fun. Roomy and incredibly versatile, the HR-V's cabin brings the virtues of an MPV while providing a driving position which engenders a sense of agility and dynamism.
The Magic Seat system allows each of the 60:40 split second-row seats to adopt numerous configurations to maximise the people and load carrying versatility of the cavernous interior. The Magic Seat system can adopt one of three 'modes' from the standard seating position.
Utility mode - the rear seat back folds forward as the seat base itself lowers into the rear passenger footwell, creating a maximum 1,845 mm-long flat floor.

Tall mode - the front of the rear seat base rises up and back and is locked in a vertical position to leave a cargo height of 1,240 mm from floor to ceiling, allowing tall objects to be placed behind the front seats.

Long mode - the front passenger seat back folds back to a horizontal position, while the rear seat back folds forward, forming a 'tunnel' to accommodate items up to 2,445 mm long.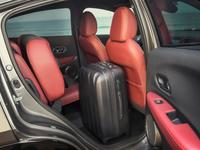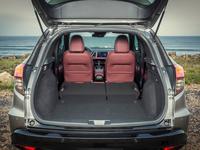 Occupants will appreciate the class-leading cabin space, with headroom, legroom and shoulder room in the front and rear so generous that they match the dimensions more commonly found in larger vehicles.
Travelling long distances in the HR-V is a comfortable and fatigue-free experience for the driver and passengers thanks to Honda engineers' determination to provide this model with class-best levels of refinement. Furthermore, the 2019 HR-V sees the introduction of redesigned seats for the driver and front passenger, which incorporate changes to the seat cushion and back rest, providing enhanced overall support - especially for the shoulder area.
Refined interior design with high quality materials
The expansive, airy cabin is fitted with high quality, soft-touch surfaces, subtly accented with brushed chrome highlights and sophisticated stitching lines to provide a premium ambience. The dashboard design combines a solid feel with premium detailing, including a piano-black feature panel that emphasises the sense of quality, class and refinement.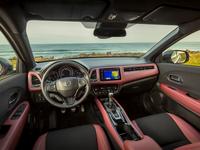 For the 2019 HR-V, new seats for the driver and front passenger provide enhanced support in the seat cushion and back rest. Standard fabric upholstery is now fashioned from higher-quality material, while higher grade models feature a combination of fabric and leather with double stitching for a more appealing finish. Top-grade cars have a full leather interior as standard.
Inside the dedicated HR-V Sport model, the seats are trimmed in a unique two-tone black fabric and dark red leather combination, and it also features gloss black trim finishes for the lower dashboard and centre console panels. Black roof lining adds to the dynamic interior of the model,
Facing the driver, a three-dial instrument binnacle features 'floating' illumination rings and Honda's ECO Assist function, which changes the backlight colour of the speedometer from white to green during fuel-efficient driving.
The sense of spaciousness is amplified on top-grade models in the new HR-V line-up by the availability of a unique-in-class opening panoramic glass sunroof. With one-touch opening tilt and slide operation, the long panoramic sunroof features a sliding sunshade that opens automatically with the roof and can be closed manually to block sunlight.
Advanced infotainment system
Seamless connectivity and infotainment is provided in the HR-V by the Honda Connect system. It is fitted as standard on the mid and upper grade HR-V, and as an option on the base model.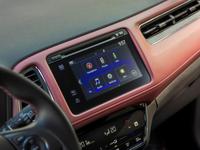 The Honda Connect system comes with pre-installed apps, with others available for download from the Honda App Centre for owners to personalise their connected experience. The pre-installed 'Aha' app allows effortless access to thousands of audio stations - spanning music, news, podcasts and audio books - as well as social media feeds and location-based services.
In addition, the Honda Connect system features extensive options for synchronising with smartphones and other personal multimedia devices: WiFi, Bluetooth, HDMI, Also available as standard higher grades Honda offers HR-V buyers a fully-integrated Garmin satellite navigation system.
HR-V base models are fitted as standard with a five-inch LCD colour display screen in the centre of the dashboard and a 160-watt AM/FM/CD Audio system with four speakers. Mid and upper grade models are fitted with a 180-watt six-speaker audio system.
Enhanced interior refinement
The HR-V's highly efficient acoustic insulation package has been improved for 2019 by adding greater levels of insulating material around the car, including around the front bulkhead and wheel arches, the boot structure, and both front and rear door panels. It incorporates top quality, non-woven underlay and sound-absorbing carpets of a type usually found only in high-grade premium vehicles. Furthermore, the floor carpet, underfloor cover and dashboard acoustic pad inserts all contribute to achieving a refined and relaxing atmosphere throughout the cabin. At a constant speed of 100 km/h, occupants experience a whisper-quiet 65 dB of cabin noise.
Depending on model grade, the new HR-V is also be equipped with Active Noise Cancellation (ANC) for the first time. ANC is designed to reduce low-frequency noise in the interior by monitoring for such noises using two in-cabin microphones, and then cancelling them out with precisely-timed 'reverse phase' audio signals through the speakers.
On the Sport model with manual transmission Active Sound Control is applied. Active Sound Control has the same ability as Active Noise Cancellation and also operates throughout the rest of the engines speed range, where it can tune the sound heard when accelerating.
Comprehensive suite of advanced safety features
As with all new Honda vehicles sold in Europe, the HR-V is fitted with a wide range of active and passive safety technologies designed to make driving both easier and safer, while maximising occupant and pedestrian protection.
City-Brake Active System
Every HR-V sold in Europe will be equipped with Honda's City-Brake Active System. Specifically designed to help avoid or mitigate low speed accidents, the system uses laser radar technology to scan the road ahead, automatically applying the brakes if an imminent risk of collision is detected. The system is designed to operate at speeds below 32 km/h (20 mph). If the system identifies a risk of collision then pre-braking as well as audible and visual warning will occur, eventually followed by full autonomous braking to bring the car to a stop.
Advanced Driver Assist System
Mid and upper grade models will feature Honda's Advanced Driver Assist System, which uses radar sensors, plus forward and rear facing cameras, as standard. This comprehensive suite of active safety technologies includes: Forward Collision Warning, Traffic Sign Recognition, Intelligent Speed Limiter, Lane Departure Warning and High-beam Support System.
Forward Collision Warning
Forward Collision Warning detects the risk of collision by recognising the vehicle (car or truck) directly in front, using the multi-purpose camera. The system operates when the car is at a speed of 15 km/h (9 mph) and above. On detecting the risk of collision, it will offer visual and audible warnings. The warning distance can be adjusted to the driver's preferences and the system can be turned off by the driver.
Traffic Sign Recognition
Traffic Sign Recognition uses the multi-purpose camera to detect road signs whenever the vehicle is moving forward. The system automatically recognises and displays the signs in the instrument binnacle screen once the vehicle has passed the sign.
The system is designed to detect circular road signs displaying speed limits and 'No Passing' information. Two road signs can be displayed at any one time - the right side of the display only shows speed limit signs while the left shows 'No Passing' signs and speed limits with additional information; such as weather conditions, for example.
Intelligent Speed Limiter
Intelligent Speed Limiter combines two otherwise independent safety systems - Adjustable Speed Limiter and Traffic Sign Recognition system - resulting in an advanced safety assistance feature. The Adjustable Speed Limiter system -standard on every Honda car on sale in Europe - regulates the maximum speed of the vehicle at a level set by the driver.
With Intelligent Speed Limiter activated, the maximum speed of the vehicle is automatically determined by the prevailing legal speed limit detected by the Traffic Sign Recognition system. When the vehicle passes a sign indicating a lower speed limit, the vehicle will gently and automatically slow, through a reduction in power, to a maximum speed that does not exceed the speed limit. An alert sounds and the displayed speed limit blinks if the vehicle speed exceeds the limit by 3 km/h (2 mph) or more. The vehicle's maximum speed - regardless of the accelerator input by the driver - will not exceed this limit. When the vehicle passes a sign indicating a higher speed limit, it will allow the driver to accelerate until the vehicle reaches the new maximum permitted speed, at which point it will prevent the vehicle from exceeding the new speed limit. The system can be turned off by the driver at any time.
Lane Departure Warning
Lane Departure Warning uses the multi-purpose camera to track lane markings on the road. If the car deviates from its current lane without indicating, Lane Departure Warning alerts the driver with audible and visual warnings. The system can be turned off by the driver at any time.
High Beam Support System
High Beam Support System works at speeds of more than 40 km/h (25 mph) to switch High Beam head lights on or off automatically depending on oncoming or preceding vehicles (cars, trucks and motorcycles), bicycles and environmental brightness. The system can be turned off by the driver at any time.
Passive safety engineered into the structure
The HR-V platform incorporates Honda's exclusive ACE™ (Advanced Compatibility Engineering) body design, which employs a network of connected structural elements to distribute crash energy more evenly. This design helps to reduce the forces transferred to the passenger cell in the event of an impact, giving superior front, side and rear crash-worthiness.
ACE™ also helps minimise the potential for under-ride or over-ride situations that can happen during head-on or offset frontal impacts with a larger or smaller vehicle.
Every new HR-V sold in Europe is equipped with a total of eight airbags, maximising occupant protection. The front, side and full-length curtain airbags are all advanced 'intelligent' designs and are triggered only when absolutely necessary. The front seat head restraints are designed to reduce the effects of whiplash injury.
Gallery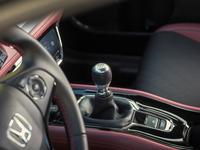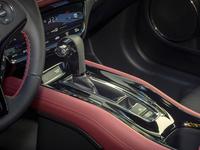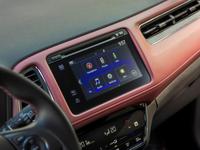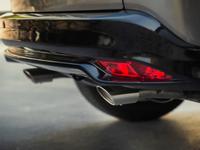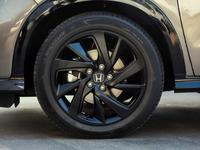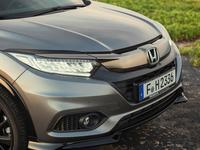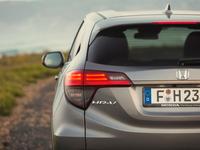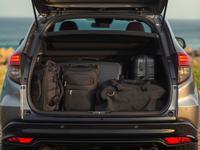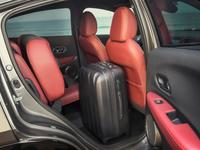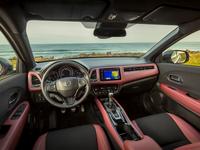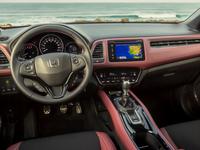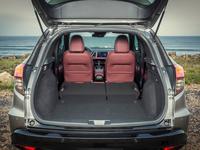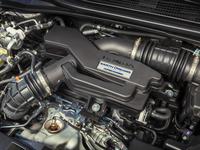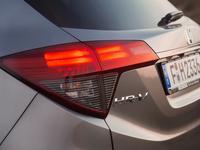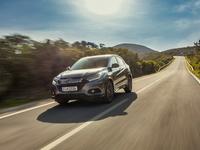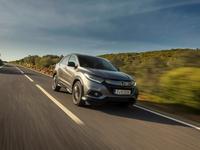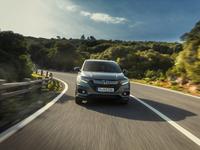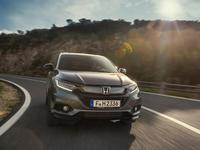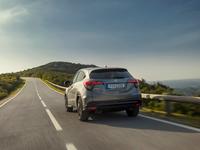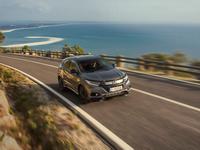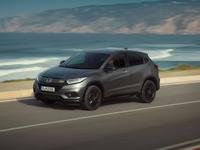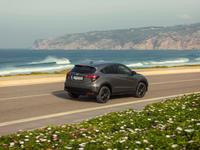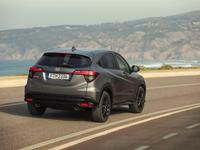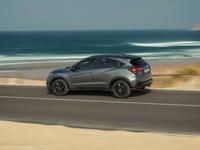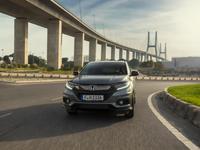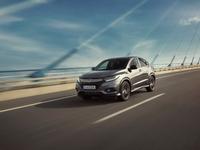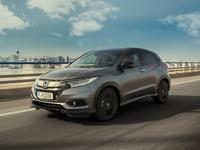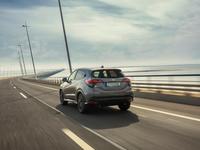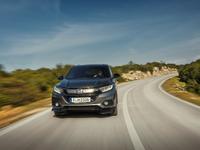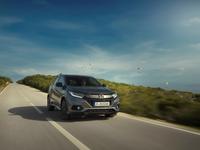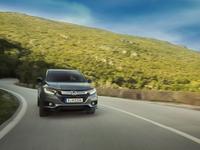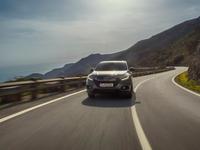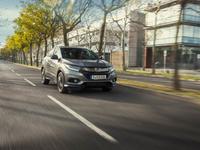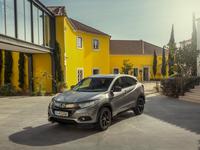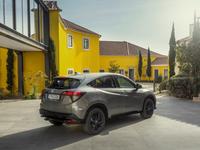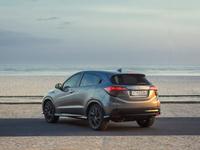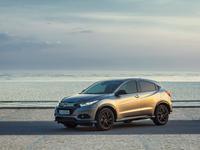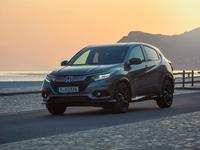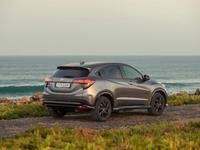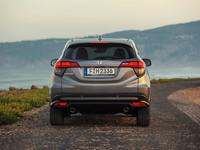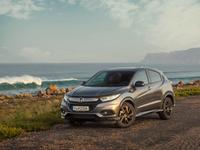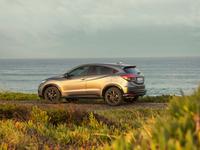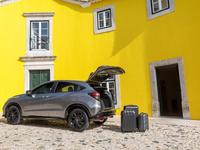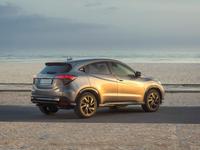 Further information
Technical specifications
Body and chassis
Four-door, five-seat SUV with unitary construction bodyshell. A choice of three engines and two transmissions driving the front wheels.
1.5 litre i-VTEC (petrol)
1.5-litre VTEC TURBO (petrol)
1.6 litre i-DTEC (diesel)
Type
4 valves per cylinder
4 valves per cylinder
4 valves per cylinder
Capacity (cc)
1498
1498
1597
Bore x stroke (mm)
73.0 x 89.5
73 x 89.5
76.0 x 88.0
Compression ratio
11.5
10.6
16
Power
130 PS at 6,600 rpm
182 PS at 5,500 rpm (6MT)
182 PS at 6,000 rpm (CVT)
120 PS at 4,000 rpm
Torque
155 Nm at 4,600 rpm
240 Nm at 1,900 - 5,000 rpm (6MT)
220 Nm at 1,700 - 5,500 rpm (CVT)
300 Nm at 2,000 rpm
Manual
6 Speeds
6 Speeds
6 Speeds
CVT
Variable with 7 simulated 'gears'
Variable with 7 simulated 'gears'
-
Curb weight
1241 -1317 (6MT)
1249 -1324 (CVT)
1341- 1349 (6MT)
1428- 1435 (CVT)
1343-1417 (6MT)
Suspension and damping
| | Front | Rear |
| --- | --- | --- |
| Suspension | MacPherson Strut | H-type torsion beam |
| Brakes | 293 mm ventilated disc | 282 mm disc |
| Tyres - 16in | 215/60 R16 | 215/60 R16 |
| Tyres - 17in | 215/55 R17 | 215/55 R17 |
| Tyres - 18in | 225/50 R18 | 225/50 R18 |
Dimensions and capacities
| Measure | Size | Notes |
| --- | --- | --- |
| Overall length | 4,335 | 4,346 (Sport) |
| Overall width | 2,019 | |
| Overall height | 1,605 | incl Antenna |
| Wheelbase | 2,610 | |
| Luggage (seats up) | 470 | 448 (Sport) |
| Luggage (seats down) | 1,103 | 1,043 (Sport) |
| Fuel tank | 50 l | |
Performance and consumption
1.5 i-VTEC
Manual
1.5 i-VTEC
CVT
1.5 i-VTEC
Turbo Man
1.5 i-VTEC
Turbo CVT
1.6 i-DTEC
Manual
Maximum speed (mph)
119
116
133
124
117
0-62 mph (seconds)
10.7
11.4
7.8
8.6
10.5
NEDC Correlated
Fuel consumption
- Combined (mpg)
40.4-56.5
44.8-60.1
38.7-55.4
37.2-56.5
67.3-72.4
CO2 Combined (g/km)
130-132
121-122
135
137
105-108
WLTP
Fuel consumption:
- Low (mpg)
33.6-34.5
32.1-32.8
33.2
26.9
54.3-56.5
- Medium (mpg)
44.8-45.6
45.6-47.1
45.6
42.2
57.6-61.4
- High (mpg)
48.7-49.6
48.7-50.4
48.7
47.9
61.4-64.2
- Extra High (mpg)
39.8-40.4
38.2-39.2
40.4
38.7
48.7-49.6
- Combined (mpg)
42.2-42.8
41.5-42.8
42.4
39.8
54.3-56.6
CO2 combined (g/km)
148-152
150-155
151
162
132-136