Trident Honda sales executive Paul Barnett retires today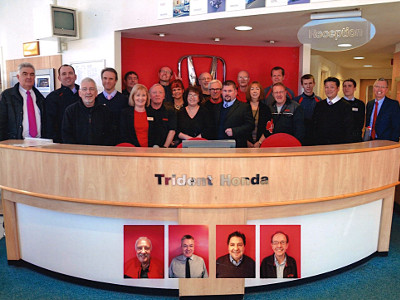 Paul Barnett, Honda Sales Executive, retires today from Trident Honda, after 11 years service.
Paul has worked in the retail motor industry for over 40 years, in various roles including parts, fleet and sales management. In 2008 Paul joined Trident Honda Weybridge as a sales executive, where his relaxed and unassuming style of selling proved very effective.
In 2015, following the merger of our Weybridge operations into our Ottershaw dealership, Paul moved with the team, quickly adapting to his new surroundings. It is a testament to the care that he provided to his customers, that so many of them followed him to Ottershaw.
Richard Roberts, Managing Director of Trident Honda, says:
Steve Henderson and I would like to thank Paul for all he has done for Trident Honda at both Weybridge, and latterly at Ottershaw. In all your time with us you have just got on and done your job without fuss as a true Gentleman, thank you!
Paul will be greatly missed at Trident Honda, both by his friends and colleagues, but also by his many customers.