Macmillan World's Biggest Coffee Morning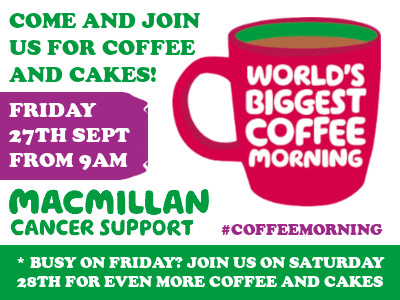 We are delighted to announce that we are participating in Macmillan's World's Biggest Coffee Morning on Friday 27th September.
Our amazing team will be busy making cakes and savouries ready for the event, and our bean-to-cup coffee machine will be primed and ready to go! (Tea will also be available.)
For those of our customers who are unable to attend on the Friday, we are pleased to extend the invitation for coffee and cakes to the morning of Saturday 28th. Throughout the event we will be raising funds on behalf of Macmillan and your support is greatly appreciated.
Richard Roberts, Managing Director of Trident Honda, says:
Several of our team have experienced the care and support provided by Macmillan to their loved ones and are passionate in supporting this event. Last year was our first such event and we had so many cakes that they lasted through to the following week! Please do come and join us and help us to raise funds for this worthwhile cause.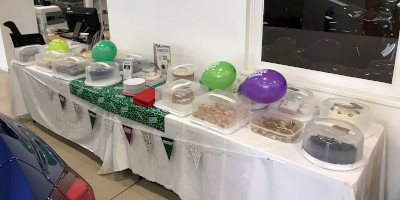 The event will be taking place at our newly refurbished showroom at Ottershaw, please follow link below for directions:
The official start time will be from 9am, but we will try and ensure that coffee and cakes are available for our early morning customers.
About Macmillan Cancer Support
From advice about money and work, to someone who'll listen if you just want to talk, Macmillan are there when you need them most. Right from the moment you're diagnosed, through your treatment and beyond, they're a source of support, giving you the energy and inspiration to help you feel more like yourself.