Trident Honda Otters achieve best ever result at Woking Swimathon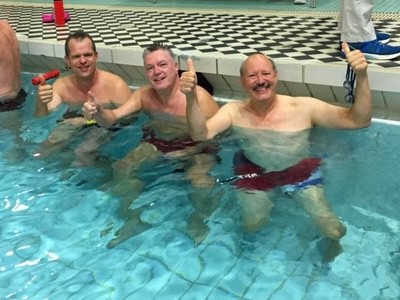 Woking Rotary Club held their 12th annual Swimathon event at the Woking Pool in the Park on Sunday 13th October 2019.
Trident Honda has been the main sponsor for the event every year since its inception 12 years ago. This year we again had two teams competing in the event - The Trident Honda Otters, and between them managed 261 lengths, up from 224 last year.
The Swimathon was opened by Cllr Beryl Hunwicks, Mayor of Woking early on Sunday morning and teams of six arrived throughout the day to make their charitable contribution swimming as many pool lengths as they could over 55 minutes.
The Trident Honda Otters included Mary Spicer as team captain, along four family members, Chris Monk, Craig Tabiner and family, Justin Creber, Roger Reid and Steve Hamer from Shell UK. Together they raised £465 in sponsorship for the event, with a further £109 being raised from outside collections and paid directly to Woking Rotary.
Our team captain, Mary Spicer, reports:
We had a fantastic year this year, increasing last year's record tally by no fewer than 37 lengths! A huge thank you to Bourne Valley Garden Centre for our breakfasts afterwards, it made for a great celebration.
Charities being supported this year are Mayors Charities (Your Sanctuary and Women's Support Centre), Woking and Sam Beare Hospice, Transform Housing & Support, Horsell Village School (Outdoor learner-centre), Samber (Riding For the disabled), Woking Street Angels, and Woking Shop Mobility.
All participants received a medal in recognition of their efforts.
Our dealer principal, Steve Henderson, who was also present on the day, said:
Trident Honda is proud to be associated with the Woking Swimathon. This year's event was one of the best so far, especially for the Trident Honda Otters - both in terms of lengths swum and money raised! A huge thank you to the Woking Rotary for organising and to all the swimmers for taking part and making it such a special event.