Downslink challenge gets £100K fundraising target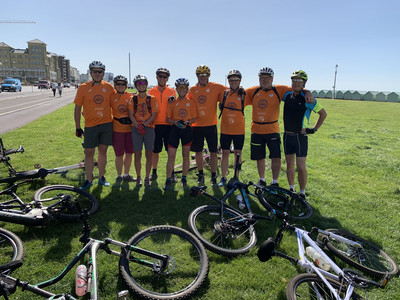 The Downslink Challenge is celebrating a huge milestone, after 6 years, organisers have smashed through their £100k fundraising target this month. The epic annual event, which sees entrants cycle from Knaphill to Brighton for charity, was sponsored for the sixth consecutive year by Trident Honda.
This year saw the birth of the 'ProEdition', which offered cyclists a huge 128 miles of cycling for the first time along the old Downslink Railway and river & canal systems locally. For those cyclists that didn't feel as venturesome, they pedalled along the railway route for 50 or 100 miles.
The event attracted over 40 cyclists and a 'wheelie' great time was had by all, with spectators enjoying raffles, auctions and fantastic prizes presented by Woking FC.
Organisers have confirmed that this year's event has already gained over £12,000 in donations. This brings the total amount raised since the event was founded in 2016 to over £100k, an ambitious target that was set by organisers six years ago.
With donations still rolling in, there is hope 2021's event may even surpass the yearly record of £29,000 set in 2019. The funds will be split equally between Woking & Sam Beare Hospice, as well as Little Roo Neonatal Fund at Ashford and St Peter's, so both charities will benefit from the event.
Trident Honda in Ottershaw have sponsored the challenge every year since 2016 and are thrilled to be back supporting once again. The dealership team even tackled the fifty mile 'challenge' ride themselves earlier in the summer. Managing Director, Richard Roberts, comments:
We've been delighted to support the Downslink Challenge for the past six years, but this year the team really raised their game. It was amazing to be part of the day, and our team had a brilliant time getting active for a great cause. It's not too late to make a contribution, and we'd love for you to get involved and help us meet our £100k goal. You don't have to dust off your bike, simply visit the funding hub and donate whatever you can. As a proud trustee of Woking & Sam Beare Hospice, every little bit helps these fantastic causes.
The main event may have kicked off on 4th September, however the Downslink Challenge are keen to culminate with a star-studded finale. October 10th will see a team from Woking Football Club take on the course. Featuring new owner John Katz, Manager Alan Dowson, Captain Josh Casey as well as past players Lloyd Wye and Scott Steele, it promises to be the ultimate send-off for a summer of cycling fun. More information about the event can be found at https://saddlesore.bike/, including timings for spectators, while donations can still be made at https://uk.virginmoneygiving.com/downslink2021.
The Downslink Challenge is an annual off-road bike ride that takes place on an epic course between Knaphill and Brighton…and back. Following the route of the Downslink bridleway that connects the North Downs and South Downs National Trails, the day also features a host of other festivities including quizzes and prizes.