Honda HR-V e:HEV - Engineered for the Joy of Driving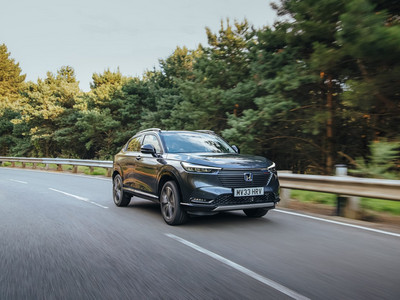 The 2022 Honda HR-V e:HEV Hybrid has been engineered with a focus on driver enjoyment and comfort. Powered from a two-motor e:HEV (Hybrid Electric Vehicle) powertrain, the new HR-V has been crafted to be both extremely enjoyable and responsive to drive, as well as highly efficient.
Efficient and responsive powertrain
The advanced e:HEV hybrid powertrain offers a unique full hybrid experience, with high levels of real-world efficiency and refinement.
Honda's proven e:HEV hybrid technology delivers a smooth and enjoyable driving experience, with responsive performance and impressive fuel efficiency. It comprises two compact, powerful electric motors connected to a 1.5-litre i-VTEC petrol engine, with peak power output from the propulsion motor of 96 kW (131 PS) and maximum torque of 253Nm at 4,500 rpm.
The e:HEV battery system has a high density 60-cell configuration, providing the power to give the HR-V its SUV driving characteristics, whilst remaining compact enough not to impact on interior space and enabling the HR-V to feature a flat floor.
What sets the e:HEV system apart is how its three drive modes seamlessly interchange to ensure optimum performance of each component in both urban and motorway driving. The intelligent Electronic Control Unit automatically, and constantly, cycles between Electric Drive, Hybrid Drive or Engine Drive depending on which is the most fuel-efficient drive mode at that specific driving situation.
When driving at a constant high-speed, such as on the highway, the system operates on engine drive as that is the most efficient for that scenario. If further acceleration is required, such as when overtaking, the car will switch to hybrid drive for that additional performance boost. Additionally, when in Hybrid Drive, power from the petrol engine-driven generator can be diverted to recharge the battery, offering additional efficiency benefits.
The transfer between these drive modes - including the start of the engine to generate electric power - is virtually unnoticeable to the occupants.
The driving dynamics are enhanced through the various performance modes - Sport, Normal and Econ. The additional drive mode B can be selected through the gear shifter for stronger regenerative braking and a more EV-like experience. The level of energy regeneration and the strength of the deceleration effect can be adjusted to suit the driver's preference by using Deceleration Selector behind the steering wheel, to provide a variety of driving experiences. 'Sport' mode enables even sharper throttle response, whilst 'Econ' mode adjusts the air conditioning system and throttle response for an emphasis on fuel efficiency.
Enhanced structural, suspension, steering and braking
The all-new HR-V has a more rigid body structure and benefits from extensive suspension, steering and braking enhancements. This allows it to respond more precisely to driver inputs, and delivers a more assured, more rewarding and comfortable driving experience.
Honda engineers have also managed to increase torsional rigidity and the spring rate of the steering column, delivering a smoother feel during direction changes. Initial corner turn-in is more direct and precise, with the overall feel during manoeuvres much more linear, and inspiring confidence through stable and predictable handling.
Stopping power is delivered by a powerful braking system featuring 293mm ventilated front discs and 282mm solid discs at the rear. A bespoke electric servo brake mated to the e:HEV system smoothly controls the regenerative and hydraulic brakes, affording smooth brake feel.
And lastly, the HR-V's brake pedal has been positioned with a keener focus on ergonomics, reducing driver fatigue over long distances.
All to provide the driver with a truly enjoyable driving experience…