Honda HR-V e:HEV - Honda Sensing™ safety as standard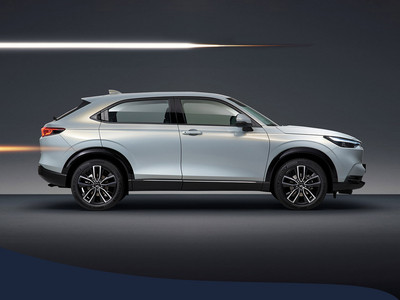 The all-new HR-V is equipped with Honda SENSING™, for the first time, and features a comprehensive range of class-leading advanced safety technologies and driver aids.
Honda SENSING™ receives an upgrade for the all-new HR-V, including the application of a new wider, higher-definition monocular front camera and high-speed image processing chips that improves upon the previous camera and radar sensor combination. It also includes, improved night-time operation of the Pedestrian Collision Mitigation Steering System and the Collision Mitigation Brake System (CMBS), which now detects oncoming vehicles crossing the path of the car, including cyclists and motorcycles, and applies the brakes.
New Adaptive Cruise Control (ACC) technology introduced for the all-new HR-V improves safety when changing lanes and passing vehicles. The steering angle and lateral G-force is now assessed in conjunction with the enhanced camera images to accelerate the car earlier during manoeuvres. This delivers a safer, smoother transition when pulling out. ACC also boasts a low-speed follow function and brake control to maintain set speed during hill descent.
Blind Spot Information now features on the all-new HR-V[1]. It uses radar technology to automatically detect vehicles in the driver's blind spot and alerts the driver via a warning symbol in the door mirror. The detection distance has been improved from 3m to 25m for increased driver confidence.
Cross Traffic Monitor has also been strengthened, this uses rear side radar sensors to warn the driver of approaching vehicles from left or right when reversing. An audible and visual warning is provided here.
Hill Descent Control, available for the first time in Europe on the HR-V, operates from a minimum speed of just 3 km/h. This technology enables greater and smoother control on low-grip surfaces and steep descents to increase driving confidence in a wider range of conditions - from navigating slippery outdoor car park ramps to tackling steep snowy roads.