Android Auto and wireless Apple Carplay as standard with Honda CONNECT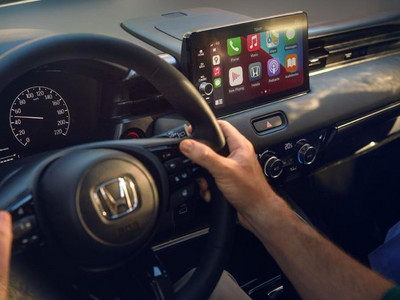 Enjoy smartphone integration with Honda CONNECT infotainment system via Android Auto and wireless Apple Carplay as standard.
What are Android Auto and Apple Carplay?
Google Android Auto and Apple Carplay offer a suite of apps, including navigation, messaging and music, all driven by an AI assistant (Google Assistant or Apple Siri). Make and receive phone calls, send and receive messages, all from your favourite AI assistant.
What is Honda CONNECT?
Honda CONNECT is Honda's seamless in-car connectivity that allows owners to connect to their everyday lives with ease. The simple-to-use touchscreen interface is designed to minimise driver distraction, providing a safer and more ergonomic experience.
The system interface is navigated using familiar smartphone-style usability, with swipe controls to scroll through pages and lists. The display can be configured to suit any usage requirements, incorporating customisable shortcuts to frequently used functions and audio sources.
Connected infotainment services are accessed via the touchscreen or are voice activated, including weather, parking locations, music, navigation, location finding, and telephone services. The comprehensive suite of in-built apps can be supplemented by smartphone mirroring, via built-in Android Auto and Apple CarPlay, available via wireless connection or by using a USB cable. WiFi Hotspot is also available.
Honda US: How to Connect and Use Wireless Apple Carplay
Honda US: How to Connect and Use Wireless* Android Auto
<

* Please note that Android Auto requires a USB cable connection unless you subscribe to Honda's in-car WiFi
Honda Personal Assistant
Connected services and applications accessed via the advanced touchscreen interface can also be activated using voice commands, through the Honda Personal Assistant. First seen in the Honda e, the intuitive Honda Personal Assistant is a smart artificial intelligence (AI) facility which uses natural, smart instruction-based conversations and contextual understanding to access a range of online services.
The unique Honda Personal Assistant is easily activated by saying: OK Honda, followed by the question or instruction. An abstract face animation accompanies the humanised response and visually acknowledges interactions.
Context recognition allows users to converse naturally, with the AI understanding the context of follow-up question and responses. It also enables real time search function, with context, to locate services that are available at specific times.