2023 Honda Civic Type R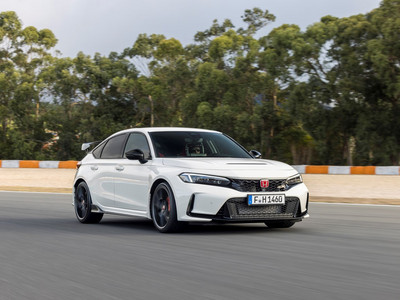 The launch of the all-new Civic Type R comes as Honda celebrates 25 years of its iconic high-performance hatchback - and 50 years of Civic. The next-generation model has been engineered to deliver the fastest Civic Type R to date, building on a long tradition of performance cars inspired by the spirit of racing.
Building on the human-centred approach to dynamics, design and usability applied when developiung the 11th generation Civic, Honda engineers have refined every aspect of the new Civic Type R...
Introducing the new Civic Type R
Integrated design enhancements including a functional hood vent and a new rear diffuser that bring new aerodynamic benefits, whilst complementing the sporty silhouette. The Type R is also lower and wider than the standard Civic, with a new rear spoiler design accentuating the sleek roofline and contributing to the car's aerodynamic performance and muscular appearance.
Lightweight components and an increase in power from the 2.0 litre four-cylinder petrol engine combine to create one of the highest power-to-weight ratio in its class. A revised rev-match system with auto blip ensures that gear changes with the six-speed manual transmission offer drivers a rewarding experience.
Inside, the Type R features the evocative red interior, lightweight sport seats and driver-focused controls that distinguish all performance Hondas. In addition to pre-set driver modes, a new Individual mode enables new levels of customisation for drivers, enabling them to personalise vehicle characteristics such as throttle response and steering feedback. The onboard Honda Log R datalogger has improved monitoring and an innovative scoring function to help drivers improve their performance on the track.
As with all Honda Type R models, the Civic Type R wears the brand's iconic crimson red 'H' badge that is inspired by the spirit of Honda racing. This stretches back to 1965 with the success of the RA272 Formula 1™ car at the Mexican Grand Prix, which sported white livery with a red rising sun on the nose. Honda continues to push the boundaries of performance in motorsport, with the latest generation Type R recently setting a new lap record for a front-wheel drive car at the world-famous Suzuka Circuit in Japan.
Powerful aerodynamic exterior design
Developed with Honda's network of racing suppliers, including WTCR supplier JAS Motorsport and Super GT engineers from HRD's Sakura facility, the engineers used computational fluid dynamics to significantly improve its drag coefficient with more controlled airflow and reduced pressure changes over and around the car.
The Civic Type R is 8mm lower and 90mm wider than the Civic e:HEV, and 13mm lower and 15mm wider than the previous Type R. The front wheel arches feature a large duct behind the wheels, directing airflow down the length of the car and away from the rear wheel housing. The wider rear arches are fully integrated into the body and shaped to remove pressure fluctuations and deliver a cleaner flow of air to the rear diffuser and spoiler.
The lower grille has been extended to accommodate the large capacity intercooler, increasing airflow to both it and the front brakes. To aid thermal management of the 2.0-litre VTEC Turbo engine, the aluminium bonnet now features a vent, which works with the lower grille to improve airflow and provide negative lift over the front end.
At the rear, the new diffuser works with the new spoiler to increase downforce and suppress air resistance. The rear spoiler is wider and lower than on the previous model, and designed to increase downforce and reduce drag. Mounted part way up the resin boot-lid, the wing aligns with the edge of the rear window to improve rear visibility.
The new lightweight 19-inch alloy wheels feature a stepless reverse rim design to improve rigidity. Their design improves handling by stabilising contact pressure of the inner shoulder of the bespoke compound 265/30R/19 Michelin Pilot Sport 4S tyres when cornering.
The range of available paint colours honours the car's racing heritage, including the iconic Championship White in addition to Rallye Red metallic, and Racing Blue, Crystal Black and Sonic Grey Pearls.
A driver-focused cockpit experience
The driver is positioned 8mm lower than in the previous Civic Type R. Newly designed lightweight front sports seats securely hold the driver at the waist, to ensure comfort and manoeuvrability. The entire cabin has been designed to enable high levels of concentration from the driver during intense driving experiences. All essential controls are placed within easy reach, with the main information display positioned as centrally as possible.
Visibility has been improved, with clear sight lines to the front corners of the bonnet, and reduced blind spots. The new rear wing design has vastly improved rearward visibility, whilst the flat shoulder line improves perception of the car's surroundings when using the door mirrors.
The Type R features a unique serial plate positioned on the dash. The cabin has a genuine aluminium console, with polarised gun metal air vent outlet surround, to reduce reflections. The seats are finished in a high-grip suede-like upholstery, with matching red carpet trim.
The standard car's all-digital meter display has also been enhanced for Type R, retaining the clean, simple dual-meter display for Comfort and Sport drive modes. Switching to +R mode engages a bespoke graphic set, which relays just the key information for focused, track driving. The full-width digital rev-counter sits atop displays of circuit driving data including vital temperatures, a lap timer and g-force meter. The newly introduced Individual mode allows users to tailor their preferred display layout.
Engineering the ultimate Civic Type R
Building on the capabilities of the previous model, the latest generation model incorporates new lightweight materials, increased engine performance and improved driving dynamics, resulting in the fastest, most dynamic and addictive Civic Type R yet.
The most powerful VTEC Turbo ever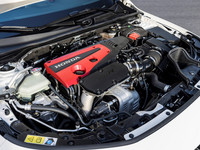 The new Civic Type R is powered by a revised 2.0 litre VTEC four-cylinder turbocharged engine. By reducing the number of turbo blades and optimising their shape and diameter, inertia within the unit has been reduced.
A straight exhaust system increases the exhaust airflow rate by 13%, reducing back pressure and improving efficiency. The system has a newly designed triple-exit backbox with an active valve to further increase exhaust gas flow. Sound modulation has improved the aural sensation to increase driver engagement.
All of this is managed by a revised engine control system, which has been updated by further increasing the resolution of the ignition timing control and tuning of the VTC (Variable Timing Control), to improve overall throttle response under acceleration.
The overall effect is higher performance at high revs and lower fuel consumption at low revs, and the highest power-to-weight ratio in its class. The engine produces 329PS @ 6,500rpm, whilst 420 Nm is available at just 2,200 rpm, and remains available up to 4,000 rpm, with the engine revving freely all the way to 7,000 rpm. The Civic Type R can sprint from 0-100 km/h in just 5.4 seconds, and on to a top speed of 171mph.
Helping to achieve this is a revised six-speed manual transmission, with a new 18% lighter flywheel reducing inertia by 25%. A revised rev-match system with auto blip ensures perfectly paired rev-matching when shifting down through the gears, helping balance the car on corner entry. Particular attention has been paid to the 2nd to 1st gear shift. The high-strength gearbox has also gained a high-rigidity lever, an optimised shift gate pattern as well as a unique to Type R shift link mechanism to improve shift smoothness. Feel has also been improved with an optimised spring rate for faster gear changes with more satisfying weighting.
Despite being the most powerful Civic Type R ever, Honda engineers have improved the emissions output and fuel efficiency of the vehicle, with just 186 g/km of CO2 emissions, and fuel economy of 8.2 l/100kms (WLTP) (28.7 mpg).
Lightweight, rigid chassis tuned for addictive performance
The 35mm longer wheelbase and multilink rear suspension are paired with a wider rear track to offer improved cornering stability. The dual-axis front suspension, a configuration to minimise torque steer, has been revised with new lower suspension arms optimised in shape and rigidity to achieve a 16% increase in camber rigidity. The adaptive dampers have been retained but now feature a revised control logic for roll and pitch control.
The aluminium bonnet of the new Civic is 43% lighter than the previous model's steel panel, while the resin tailgate is 20% lighter than before. Honda has increased the application of structural adhesive throughout the chassis by 380%, to improve stiffness and rigidity. A 15% increase in rear body rigidity further improves stability when cornering.
Stopping power is provided by an upgraded Brembo braking system featuring revised brake ducts and a new mechanical brake master cylinder. These provide better temperature control while ensuring improved controllability and enduring stopping power, whilst the two-part floating discs are retained from the previous generation for sustained high level braking performance.
Addictive steering feel
When developing the Type R's steering, engineers wanted to encourage smooth driving, with minimal corrective inputs required from the driver. The steering column now features bearings that have gone through a honing process for improved rigidity and longevity, the tie-rod ends are now also made from a high-rigidity material for increased steering feel, and the sliding section of the intermediate shaft now features serrations for more defined engagement.
Thanks to the application of a revised EPS control logic, a larger diameter, 60% more rigid, torsion bar could now be applied to the column, as well as high-rigidity tie rods, to reduce unwanted steering deflections, in order to decrease steering input delay for outstanding feedback and response. The Motor Control Unit (MCU) has a revised control logic, improving on centre response and off-centre stability for a more responsive, yet linear feel throughout the steering range.
Bespoke Michelin tyres
In order to raise the handling limit of high-performance, front-engine, front wheel drive cars, Honda and Michelin co-developed a bespoke compound tyre to cope with the heavy burdens placed on the front axle during performance driving.
Michelin's proprietary C3M manufacturing method has achieved a significant improvement in dry grip without compromising wet performance or wear performance. Internally, the tyre features a 'wavy' belt structure to match the block shape of the tyre, offering increased support to the moveable tread blocks by reducing the distance between the belt to the tyre's contact patch with tarmac.
Structural safety
The Civic Type R also benefits from new structural components developed for the standard Civic, to improve front, rear and side collision protection, enhancing overall passive safety.
Honda has implemented a network of interconnected structures to increase both torsional and bending rigidity. A strong ring-shaped framework creates a more efficient joint structure for the front and rear bulkheads. Connecting these is a highly rigid grid frame structure along the floor, which is paired with a butt-jointed centre tunnel. The stiffer shell improves refinement and improved safety, with reduced floor deformation in the event of a collision.
New developments for this generation Civic include additional front door stiffeners and rear wheel arch frames to improve side impact performance, and front bumper beam safety plates to absorb impact energy and reduce the risk of leg injury for pedestrians.
Safety technology
Honda has committed to reducing traffic collision fatalities from Honda products to zero by 2050.
The new Civic Type R incorporates 8 airbags inside, including new knee airbags for both front seats to reduce occupant injury during front impacts and side airbags to help protect passengers in the rear seats.
The Type R also benefits from the latest Honda SENSING enhancements, including:
Forward Collision Warning System
Collision Mitigation Braking System (CMBS)
Cross Traffic Monitor
Blind Spot Information System
Lane Keeping Assist System (LKAS)
Road Departure Mitigation System
Adaptive Cruise Control (ACC)
Traffic Sign Recognition
Automatic High Beam
The sonar sensors, four at the front and four at the rear, use the reflection of sound waves to detect non-metallic objects such as glass and walls. The front camera provides a 100-degree view and enables enhanced recognition technology to improve the car's capability to identify road lines, verges, motorcycles, and cyclists.
A high-speed processing chip has been used to improve the detection, performance, and control of the system, meaning the Honda SENSING system can detect objects earlier and more accurately than conventional millimetre radar systems, including pedestrians in light and dark environments.
Honda Log R 2.0: Performance data in real-time
Honda engineers set out to provide drivers with a wealth of data, presented in an easy to interpret way. This has taken the form of the new Honda Log R 2.0 app, which is now built into the infotainment system.
Enabling all of this is a powerful data analysis system, which uses multiple datum points captured through the car's internal sensors. This allows the Honda Log R 2.0 app to provide users with two in-depth features: a 'Performance Monitor' function and a 'Scoring' function.
In Performance Monitor, vehicle information is available including engine, water, and oil temperatures as well as steering angle, brake pressure, accelerator pedal angle and yaw rate. One of the new functions is a digital tyre friction circle, which displays the maximum tyre friction force of each tyre, as well as the longitudinal and lateral magnitude of the tyre force.
The Scoring function allows users to review their driving to help improve skills behind the wheel. This function is capable of delivering two further functions: Auto Score and Data Log.
The Auto Score function operates whenever the Honda LogR 2.0 app is running, tracking and logging inputs in five key performance areas: acceleration, deceleration, turning, straight-line driving and combination.
In Data Log mode, acceleration, braking and cornering G forces data is collected and combined with GPS location mapping to provide a comprehensive lap overview. The colour coded lap trace allows users to recognise, and improve on, their braking points and throttle position at all points of the circuit. The GPS locator can also be used to set start and finish line markers for timed laps, with all data saved for comparison with previous and future laps. The unique scoring of the Data Log mode awards up to 100 performance-based points per lap. The system follows the same C, B, A, S, and S+ driver ranks as Honda's R&D evaluators, offering easy to interpret data inspired by professional motorsport coaching for continual on-track improvement.
Driving data is automatically uploaded to the cloud and can be viewed anytime via Honda Log R 2.0 smartphone app. The Honda Log R 2.0 app also has the ability to captures onboard footage and overlay synchronised live streams of data, including lap count, lap time, real-time vehicle and engine speed, tyre friction, registered G forces and more, all overlaid in clear, easy to read formats.
An active data connection and WiFi hotspot are required to ensure that all functionality of the Honda Log R app works correctly.
Customisable Type R experience
Honda has expanded the breadth of control over the car's performance characteristics. Accessed through a dedicated 'drive mode' toggle positioned next to the gear stick, users can choose from three pre-set performance settings - Comfort, Sport and Individual. Each mode is tailored to different aspects of the car, including the adaptive dampers, steering force, rev matching and throttle response. When starting the engine, the car will begin in the mode last used as the default setting.
Comfort mode
When in Comfort mode, the Civic Type R offers greater compliance and everyday usability through a software suspension setup and smoother steering feel. This mode is ideal for rough road surfaces and prolonged motorway driving.
Sport mode
Sport mode offers a blend of comfort and dynamic response that increases responsiveness over Comfort mode without compromising on ride quality, sitting between Comfort and +R modes.
+R mode
+R mode is the most performance-focused driver setting and is the best choice for track use. This mode offers faster throttle response, and a sportier, controlled ride via the Adaptive Damper System. The result is more direct and linear power and steering feel, along with an augmented engine noise, delivering a more intense driving experience. Internally, the digital dashboard switches to a bespoke performance-focused Type R layout. Furthermore, the Traction Control System and the Vehicle Stability Assist (VSA) system function can be completely turned off, by pressing the VSA button for five seconds.
Individual mode
This latest generation Type R introduces a new Individual mode. Users can individually configure the throttle response, steering feel, suspension, engine sound, performance metre, and rev matching systems and then save their settings for future use.
Honda genuine accessories
Honda has developed a range of accessories and accessory packs, including:
Carbon pack
Decorative yet functional, the carbon pack introduces a handmade, genuine all-carbon rear wing spoiler, carbon centre console panel and matching carbon door sill trims. These options are also available separately.
Illumination pack - red
A combination of interior and exterior illumination items, the Illumination Pack Red contains front foot and under seat lighting, door lining illuminations as well as cup holder and console illumination to create a sporty red ambient atmosphere inside the Type R. A white/red exterior illuminated Type R pattern projector completes the set up and offers greater visibility at night. These options are also available separately.
Body cover
Helping keep the Type R immaculate all year round, is a full body cover: made from 3-layer, water-resistant yet breathable materials, the cover offers maximum protection against the elements and UV rays. The soft inner fleece lining protects paintwork and is suitable for both indoor and outdoor use. Finished with the Type R logo, the cover can be used with both the standard and optional rear wings.
Elegance floor mats
Finished in the same red as the carpet, the elegance floor mats are made from an elegant fitted, tufted carpet complete with red nubuck bindings. Designed to complement the red accents throughout Type R cabin, the front and rear red mat set is finished with a metal Type R emblem.
Technical specifications
| KEY | VALUE |
| --- | --- |
| Model | Honda Civic Type R |
| Engine Type | 2.0-litre turbo-charged petrol |
| Driven Wheels | FWD |
| Transmission Type | 6-speed manual |
| Engine Name | K20C1 |
| Displacement (cc) | 1996 |
| Bore X Stroke (mm) | Bore: 86 Stroke: 85.9  |
| Compression Ratio | 9.8:1 |
| Valve Train | DOHC four valves per cylinder VTEC |
| Emission Standard | Euro 6D  |
| Fuel Type | Unleaded (98 ron) |
| PERFORMANCE | VALUE |
| --- | --- |
| Engine Maximum Power (PS at rpm) | 329 @ 6500 |
| Engine Maximum Torque (NM at rpm) | 420 @ 2200 |
| 0 → 100 km/h (seconds) | 5.4 |
| Max Speed (km/h) | 275 |
| FUEL ECONOMY AND EMISSIONS | VALUE |
| --- | --- |
| WLTC* | |
| Low - CO2 g/km | 260 |
| Medium - CO2 g/km | 182 |
| High - CO2 g/km | 161 |
| Extra High - CO2 g/km | 182 |
| Combined - CO2 g/km | 186 |
| Low - FC l/100km | 11.4 |
| Medium - FC l/100km | 8 |
| High - FC l/100km | 7.1 |
| Extra High - FC l/100km | 8 |
| Combined - FC l/100km | 8.2 |
| Carbon Monoxide CO (mg/km) | 355.8 |
| Non-Methane Hydro Carbon NMHC (mg/km) | 9.2 |
| Nitrogen Oxides NOx (mg/km) | 15.4 |
* Applicable Regulation = Exhaust Emissions: Number of the base regulatory act and latest amending regulatory act applicable: EC 715/2007 EU 2017/1347
| DIMENSIONS | VALUE |
| --- | --- |
| Length (mm) | 4594 |
| Width (mm) | 1890 |
| Height - Unladen (mm) | 1,407 |
| Wheelbase (mm) | 2735 |
| Track Front (mm) | 1625 |
| Track Rear (mm) | 1623 |
| Ground Clearance - No Load (mm) | 121 |
| Ground Clearance - with Full Load (mm) | 109 |
| Turning Circle - at Body (m) | 12.1 |
| Turning Radius - at Wheel Centre (m) | 6.2 |
| Steering Lock to Lock (turns) | 2.1 |
| CAPACITY | VALUE |
| --- | --- |
| Fuel Tank (litres) | 47 |
| Seating Capacity | 4 |
| Trunk Capacity - Rear Seat up (litres, VDA method)  | 410 |
| Trunk Capacity - Rear Seat Down Load to Roof (litres, VDA method) | 1212 |
| Trunk Capacity - Rear Seat Down Load to Window (litres, VDA method) | 904 |
| WEIGHT | VALUE |
| --- | --- |
| Kerb Weight (kg) | 1429 |
| Max. Permissible Weight (kg) | 1800 |
| Max. Permissible Axle Weight - Front/Rear (kg) | FR: 1,010, RR: 800 |
| Max. Roof Load (kg) | 50 |
| TRANSMISSION | VALUE |
| --- | --- |
| Transmission Type | 6-speed manual |
| Gear Ratio 1st | 3.625 |
| Gear Ratio 2nd | 2.115 |
| Gear Ratio 3rd | 1.529 |
| Gear Ratio 4th | 1.125 |
| Gear Ratio 5th | 0.911 |
| Gear Ratio 6th | 0.735 |
| Gear Ratio Final | 3.842 |
| SAFETY | |
| --- | --- |
| ABS (Anti-Lock Braking System) | ✓ |
| Airbags - Front Driver & Passenger | ✓ |
| Airbags - Knee (DR) | ✓ |
| Airbags - Knee (AS) | ✓ |
| Airbags - Passenger SRS Airbag with Cut Off Switch | ✓ |
| Airbags - Rear Side | ✓ |
| Airbags - Side (Front) | ✓ |
| Airbags - Side Curtain (Front and Rear) | ✓ |
| Blind Spot Information incl. Cross Traffic Monitor | ✓ |
| Brake Assist (BA) | ✓ |
| Collision Mitigation Braking System | ✓ |
| Collision Mitigation Throttle Control | ✓ |
| Deflation Warning System (DWS) | ✓ |
| Driver SRS Airbag (Single Stage inflation) | ✓ |
| eCall (Europe) | ✓ |
| Electronic Brakeforce Distribution (EBD) | ✓ |
| Emergency Stop Signal | ✓ |
| Forward Collision Warning | ✓ |
| Front & Rear Seat Belts with Emergency Locking Retractor (ELR) | ✓ |
| Adjustable Speed limiter | ✓ |
| Intelligent Speed limiter | ✓ |
| ISO Fix Points / I-SIZE | ✓ |
| Lane Departure Warning (LDW) | ✓ |
| Lane Keeping Assist System | ✓ |
| Lead Car Departure Notification System | - |
| Pop-up hood | ✓ |
| Road Departure Mitigation | ✓ |
| Traffic Sign Recognition System | ✓ |
| Vehicle Stability Assist (VSA) | ✓ |
| SECURITY | |
| --- | --- |
| Immobiliser System | ✓ |
| Remote Central Locking with 2 Key Fobs | ✓ |
| Security Alarm System | ✓ |
| Selectable Door Unlock | ✓ |
| Smart Entry & Start | ✓ |
| Super Locking | ✓ |
| Tilt Sensor | ✓ |
| Tonneau Cover | ✓ |
| Ultrasonic Sensor | ✓ |
| INTERIOR - TRIM | TYPE |
| --- | --- |
| Interior Panels | Matte Black |
| Interior Door Handles | Platinum Chrome |
| Pedals | Sports - Stainless Steel |
| Shift Knob | Aluminium |
| Steering wheel - Leather | Synthetic Suede |
| Upholstery | Synthetic Suede |
| Air Vent Surround | Polarized Gun Metal |
| FUNCTION & TECHNOLOGY & PERFORMANCE | |
| --- | --- |
| Adaptive Performance Damper | ✓ |
| Agile Handle Assist (AHA) | ✓ |
| ECON Mode | ✓ |
| Drive Mode | ✓ |
| Electric Parking Brake with Automatic Brake Hold | ✓ |
| Brake Hold | ✓ |
| Electric Power Steering - Motion Adaptive (MA-EPS) | ✓ |
| Electric Power Steering - Variable Gear Ratio | ✓ |
| Hill Start Assist (HSA) | ✓ |
| Idle Stop(Petrol)/HEV Mode(Hybrid models) | ✓ |
| Multi Info Display | 10.2" |
| Shift Indicator Light (SIL) | ✓ |
| COMFORT AND CONVENIENCE | |
| --- | --- |
| Accessory Socket Location | Front, Cargo |
| Air Conditioning | Dual Auto |
| Air Conditioning - Rear Vent | ✓ |
| Auto Dimming Rear View Mirror | ✓ |
| Auto Wipers | ✓ |
| Cargo net hook | ✓ |
| Cruise Control - Adaptive | ✓ |
| Door Mirrors - Aspheric | Driver |
| Door Mirrors - Electrically Adjustable | ✓ |
| Door Mirrors - Heated | ✓ |
| Door Mirrors - Electrically Folding | ✓ |
| Electric Windows Front & Rear | ✓ |
| Front Seat - Manual Height Adjustment | Driver |
| Key Fob Operation Includes | Mirrors & Windows |
| Parking Sensors (Front 4: Rear 4) | ✓ |
| Rear Bench Split | 60/ 40 |
| Rear View Camera | ✓ |
| Sunvisor Vanity Mirrors | ✓ |
| Tilt and Telescopic Steering Wheel | ✓ |
| INTERIOR LIGHTS | |
| --- | --- |
| Ambient Light (Roof) | White |
| Courtesy Light | ✓ |
| Glove Box Light | ✓ |
| Map Light (Front) | ✓ |
| Meter Illumination | White |
| Rear reading light | ✓ |
| Sunvisor Vanity Mirror Illumination | ✓ |
| Trunk Light | ✓ |
| AUDIO AND COMMUNICATIONS | |
| --- | --- |
| BluetoothTM Hands Free Telephone (HFT) | ✓ |
| DAB | ✓ |
| Honda CONNECT with Navigation (9" touchscreen, AM/FM/DAB, Apple Carplay and Android Auto, live traffic info) | ✓ |
| Integrated Honda LogR 2.0 | ✓ |
| Speakers | 8 |
| Speakers - Front Tweeter | ✓ |
| Steering Wheel Remote Audio Controls | ✓ |
| USB Front Number | 2 (1 Data & 1 Charge) |
| USB Rear Number | 2 x Charge |
| Wireless Apple Carplay | ✓ |
| Wireless Charging | ✓ |
| EXTERIOR | |
| --- | --- |
| Antenna Type | Black Shark Fin |
| Emblem | Type R |
| Exhaust | Triple |
| Exterior Door Handle Finish | Body |
| Grille | Berlina Black |
| Mirror Colour | Black |
| Privacy Glass | ✓ |
| Spoiler | Raised with die-cast aluminium stays |
| Exclusive Styling (location) | Unique front + rear bumpers, with rear diffuser and side skirts |
| Window Garnish | Black |
| EXTERIOR LIGHTS | |
| --- | --- |
| Auto Headlights | ✓ |
| Auto Headlight Adjuster | ✓ |
| LED Daytime Running Light | ✓ |
| Headlight Auto On/Off Timer (Come/ Leave Home Function) | ✓ |
| Headlight Extension Colour | Black |
| Headlight Type | LED |
| High Beam Support System (HSS) | ✓ |
| Rear Light Type | LED |
| Front Turn Type | LED |
| WHEELS & TYRES | |
| --- | --- |
| Flat tyre solution | Tyre Repair Kit |
| Tyres Front & Rear | 265/30/R19 Michelin Pilot Sport 4S |
| Alloy wheels | ✓ |
| Wheels size and design | 19" Matte Black |