The all-electric 2023 Honda e:Ny1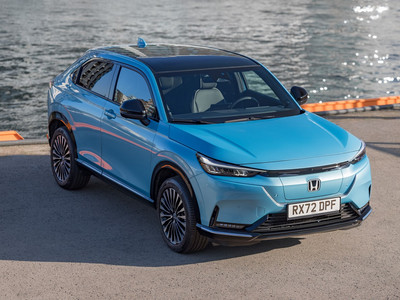 The new e:Ny1 is Honda's second fully electric vehicle (EV) for the UK. Similarly sized to the HR-V, the e:Ny1 is fun-to-drive, with a smooth and refined ride, and easy-to-use versatility.
The e:Ny1 delivers a WLTP range of 256 miles and, thanks to its integrated water cooling and advanced battery management, fast charging will deliver a 10%-80% charge in approximately 45 minutes.
Easy-to-use technology surrounds the driver with a huge 15.1 inch screen, equipped with Apple Car Play and Android Auto integration, and a plethora of smartphone charging options.
The e:Ny1 is the latest vehicle to feature the Honda SENSING suite of safety technologies as standard to offer impressive all-round collision performance and reduce driver burden through a range of advanced driver-assist systems.
Sleek EV styling
Similar in size to the HR-V, the e:Ny1 is 1,584 mm tall, 1,790 mm wide and 4,387 mm long, with a 2,607mm wheelbase. The e:Ny1 has sleek, expressive headlights, and a smooth front grille which disguises the charging port within an inward rotating panel.
Smart new 18-inch alloy wheels feature as standard across the range.
You have five colours from which to choose, including an all-new Aqua Topaz option, alongside Platinum White, Crystal Black, Urban Grey, and Vermilion Red.
Inside the e:Ny1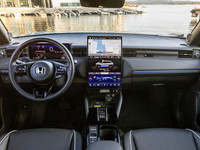 Dominating the dashboard is a large 15.1-inch centre touchscreen that provides access to infotainment menus via a new 'zoned' interface.
The front seats provide cosseting luxury, with thick padding that improves ride comfort and offers support during acceleration and cornering. And the rear passengers have not been forgotten, with seat comfort and spaciousness enhanced by a revised seat cushion design and increased padding.
Available in black or light grey synthetic leather, depending on exterior colour, the upholstery has a sporty design. Advance grade models feature smart stitching in a unique pattern, while Elegance grade seats are available in black only, complementing the light grey roof colour available on this model.
With the rear seats up, the e:Ny1 has a maximum boot capacity of 361 litres; increasing to 801 litres to the window line when the rear seats are folded down, and up to 1,176 litres when loaded up to the roof.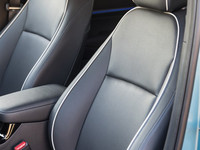 Honda's Air Diffusion System, which first debuted in the HR-V, channels airflow across the side windows and the roof of the vehicle, creating a gentle vortex that avoids air blowing directly onto passengers, and can be used with or without the standard air flow outlets.
On Advance grade models, a panoramic roof creates an enhanced sense of airiness and spaciousness, with a front sunshade and detachable two-piece rear sunshade. The panoramic roof utilises low-E glass, a highly-developed material with a microscopic coating to improve thermal efficiency and reduce infrared and ultraviolet light.
The relaxing interior ambience is aided in no small part by the major focus by Honda on reducing cabin noise intrusion.
Intelligent user-focused technology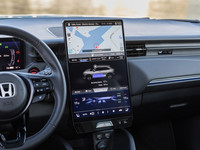 The central touchscreen has been designed to be intuitive to use, with three zones:
'Connect' zone is home to navigation, clock and camera displays;
'Driver Assist' zone presents the vehicle's status, audio and communications;
'A/C' zone displays air conditioning and Air Diffusion System controls.
Frequently used functions are always displayed prominently and can be personalised to suit your preference.
The system enables simple integration of third-party apps, including wireless Apple Car Play and wired Android Auto, while in-car Wi-Fi allows all occupants to stay connected on the move. Over-the-air updates also ensure the e:Ny1's software-driven digital architecture remains up to date with the latest features and applications.
Powertrain and chassis engineered to deliver dynamic performance, with exceptional comfort and quietness
The e:Ny1's chassis and powertrain have been engineered to deliver a fun and confidence-inspiring driving experience.
The high performance 150 kW motor boasts exceptional 92% efficiency, delivering up to 310 Nm of torque (2,788 Nm at the wheels), propelling the car from standstill to 62-mph in just 7.6 seconds and up to a maximum speed of 99-mph. Advanced thermal management is achieved through a water-cooled circuit, which ensures consistent power delivery without overheating.
The e:Ny1 has a lightweight yet rigid body frame, with 47% (by weight) constructed from high-tensile steels, resulting in high torsional rigidity and a low mass, with the e:Ny1 over 100kg lighter than some notable European rivals. In particular, the e:Ny1 features additional high-tensile bracing to the floor and roof sections, as well as around the front wheel wells, making the e:Ny1 an exceptionally strong electric vehicle.
Impressive battery performance with charging flexibility and consistency
The compact 68.8 kWh lithium-ion battery is located in a central position under the floor, contributing to a low centre of gravity for improved road holding.
The e:Ny1 has a range of up to 256-miles (WLTP). The battery is equipped with integrated water-cooling, enabling fast-charging from 10% to 80% in approximately 45 minutes, using a DC rapid charger and CCS connector, proving 62 miles of range in just 11 minutes. When using a standard domestic AC charger, 10% to 80% of total charging capacity can be achieved in just six hours.
While battery capacity is similar to class leaders, some manufacturers have prioritised headline rapid charge figures. The e:Ny1 is able to maintain a linear, higher charge rate for well over half of the charge, with very little drop off towards full capacity.
This approach helps to prevent premature battery deterioration and maintain range over the vehicle's lifespan.
Charging your e:Ny1
The e:Ny1 uses Honda Connect to conveniently manage charging at home or at a charging station, from inside the car and remotely via the My Honda+ smartphone app. A wealth of functionality is embedded within the app, including the ability to lock, unlock and start the car. Climate control can be adjusted and activated prior to departure times or at a scheduled start time. The app also allows users to keep track of their journeys, view their car's location and send their destination to friends and family. Further useful information is displayed in the app, including charge remaining, charging status, and a charging timer.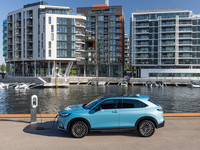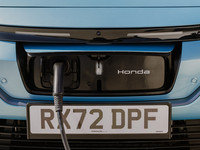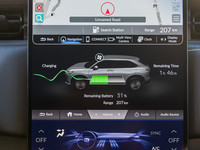 Honda allows users to closely manage their e:Ny1's battery charging parameters. Honda Connect allows users to set the maximum charging current depending on infrastructure for both 'Home' and 'Away' settings. Three levels are offered, from 'LOW', which limits the current to 6 amps, to 'HIGH', which allows the maximum current of the connected charger up to the maximum charge permitted by the battery.
Charge status at a glance
Developed to offer a better charging experience, the e:Ny1 features an external status indicator to make it easier for drivers to check on charging progress from a distance.
The full width black strip across the top of the charging port illuminates when in use, displaying an easy to understand charging status at a glance. The horizontal strip under the bonnet line gently pulses from the left and right when charging is in progress to create a 'digital heartbeat', and once complete, the strip stays illuminated to indicate that the battery is fully charged. In addition, it flashes red if a charging error is detected, and when charging is complete and the cable is removed, the car 'winks' goodbye.
Dynamic handling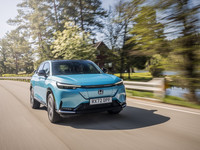 The e:Ny1 development team set out to create a refined, smooth ride to maximise passenger comfort and interior quietness, while also offering a fun, agile driving experience.
Honda's dynamic stability control ensures steering feel is smooth and linear, providing enough feedback to allow drivers to sense the available traction and adapt their inputs accordingly. Steering is light and agile at low speeds, with a firmer feel when travelling faster.
For the benefit of occupants and to minimise motion sickness, Honda's newest electric model is engineered to deliver smooth and comfortable acceleration and deceleration, without diminishing the appeal of the powerful and responsive acceleration typical of EVs.
Three dedicated pre-set driving modes enable drivers to manually adjust the car's performance settings to balance driving characteristics and efficiency:
Econ mode reduces throttle response, prioritising energy conservation by adjusting the air conditioning, heated seats, and heated steering wheel to maintain the driver's perceived temperature for a more economical drive;
Normal mode provides an optimal balance of performance and full cabin comfort;
Sport mode delivers a more exhilarating experience with highly responsive acceleration.
Advanced passive and active safety technology
The e:Ny1 becomes the latest model to feature the Honda SENSING suite of active safety technologies as standard, utilising Honda's latest camera and sonar technology.
The front camera system features a wide-angle camera with an effective horizontal viewing angle of 100 degrees, which combines with a high-speed image-processing chip to enhance the detection accuracy of objects for the Collision Mitigation Braking System and other active safety systems. Another camera is positioned at the rear of the vehicle, and one on each door mirror, resulting in 360-degree coverage for Advance grades.
Supporting the camera-based system are twelve sonar sensors located around the car - four on each of the front and rear bumpers, and two on either side - which can detect objects such as buildings and other vehicles with a high level of accuracy. The camera and sonar systems work in unison to improve overall safety, allowing the e:Ny1 to accurately identify road markings and verges with no lines, as well as motorcycles, cyclists and other vehicles.
A combination of soft and rigid structural components, including high tensile strength steel, form part of a strong body that provides exceptional front, rear and side collision protection by dissipating energy away from the cabin in the unfortunate event of an accident. This crash safety protection strategy also maximises safety for high-voltage electrical components, which are automatically shut down in the event of a collision.
Honda SENSING features
Honda SENSING is among the industry's most comprehensive safety technology packages. It uses a combination of data from the various camera, radar and sonar sensors to warn and assist the driver in potentially dangerous scenarios.
Road Departure Mitigation System
The Road Departure Mitigation System alerts drivers when lane drift is detected without a turn signal in use.
Lane Keeping Assist System
Using the Lane Keeping Assist System, the vehicle can automatically apply mild steering torque to assist the driver in maintaining proper lane position and/or apply the brakes to slow the e:Ny1's departure from a detected lane.
Traffic Jam Assist
Traffic Jam Assist technology reduces the driver's workload in low-speed traffic by helping to keep the vehicle in its lane, starting from 0 mph. When congestion clears, the car seamlessly switches to the Lane Keeping Assist System from 37 mph.
Traffic Sign Recognition
The Traffic Sign Recognition System recognises road signs and displays them on the instrument binnacle. The system also provides a pre-notification of signs to help the driver prepare for junctions or upcoming changes in the speed limit, while also working with the Adaptive Cruise Control (ACC), using one-touch speed adjustment, to match the prevailing speed limit.
Adaptive Cruise Control
Helps maintain a constant vehicle speed and a set following-interval behind a vehicle detected ahead of yours, without you having to keep your foot on the brake or the accelerator.
Driver Attention Monitor
The Driver Attention Monitor alerts drivers when it detects that their attention to the road is diminished. The system uses an angle sensor to measure the degree of steering-wheel corrections by the driver in maintaining a proper lane position. If it senses unusual and constant correction activity, the system will notify the driver to take a break.
Gallery
Specification
| Model | Elegance | Advance |
| --- | --- | --- |
| Powertrain | BEV | BEV |
| Driven Wheels | 2WD | 2WD |
| Max power | 150kW (204PS) | 150kW (204PS) |
| Max torque | 310 Nm | 310 Nm |
| 0 → 62 mph | 7.6 s | 7.6 s |
| Max Speed | 99 mph | 99 mph |
| Length (mm) | 4,387 | 4,387 |
| Width (mm) | 1,790 - 2028 | 1,790 - 2028 |
| Height (mm) | 1,584 | 1,584 |
| Boot Capacity (litres) | 361 - 1176 | 361 - 1176 |
| EV Battery Capacity | 68.8 | 68.8 |
| Battery Type | 96 cell Lithium Ion | 96 cell Lithium Ion |
| Range (WLTP Combined) | 412 | 412 |
| EV Operation Efficiency (kWh/100km) | 18.2 | 18.2 |
| Electric Motor Type | AC | AC |
| On Board Charger Capacity | 11kW AC | 11kW AC |
Further information