The 2023 Trident Honda Woking Car Show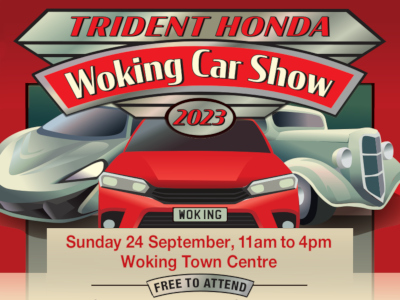 Trident Honda is proud to be the title sponsor of the 2023 Woking Car Show, a unique celebration of Woking's motoring heritage, to be held on Sunday 24th September 2023, in the heart of Woking Town Centre.
The Trident Honda Woking Car Show is a showcase of 65 rare and iconic cars, lovingly cared for locally and each with their own personal history. From American hot rods and muscle cars to the great British Mini and the car made famous by Ian Flemming's James Bond - the Aston Martin DB5 - there will be something to delight everyone.
This one-day event has been organised by local enthusiast, Terry Fox, with support from Woking Borough Council and sponsorship from Trident Honda.
Trident Honda will also be bringing along a 1975 Gen 1 Civic 1.2 Deluxe, an S800 799cc Convertible, an S-2000, a 2017 NSX and a sample of Honda's modern range of electrified cars.
| | Important Information |
| --- | --- |
| Date | Sunday 24 September 2023 |
| Time | 11am to 4pm |
| Location | Woking town centre - Jubilee Square, Mercia Walk, Commercial Way and Victoria Square |
| Admission | Free |
Richard Roberts, Managing Director of Trident Honda, said:
"We are delighted to sponsor the return of the Woking Car Show, which is a great way for us to celebrate our 60th anniversary year and our long-running connection with Woking.
"We're a family business, established in 1963, and in that time, we've had two dealerships in Woking, so we feel very much a part of the community. In the 1970s we had a site on Church Street, and in the 1990s we ran a site in Goldsworth Road.
"We sponsored Woking's last car show, which took place almost 20 years ago, so the opportunity to bring it back to Woking was too good of an opportunity to miss. We hope everyone who visits has an enjoyable time."