Trident Honda presents Weybridge Vandals with 50 official Honda Gilbert rugby balls from Honda Rugby Club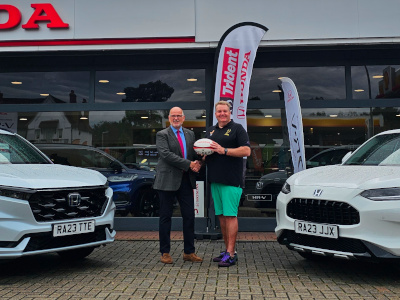 Weybridge Vandals have benefited from Honda UK initiative supporting rugby fans and grassroots teams, receiving 50 Gilbert rugby balls.
Now in its second year as the Official Performance Partner of England Rugby, Honda is continuing to support grassroots rugby with its Honda Rugby Club initiative.
Rugby fans and players were invited to sign-up to the Honda Rugby Club in order to take part in prize draws for exclusive rugby prizes.
Local rugby union clubs across the UK have been nominated to be in with a chance of winning equipment, training and support for their teams. Once a local rugby union club has received ten nominations, they are entered into a community club monthly prize draw, for the chance to win equipment, vouchers, kit and training support for their team.
Trident Honda at Ottershaw, which has sponsored Weybridge Vandals for many years - from shirt sponsor to today's sponsorship package, had proposed the club, supported by many of its staff, as well as by members of the club itself.
This month their efforts were rewarded with a couple of boxes containing no fewer than 50 Gilbert rugby balls, saving the club the significant cost of supplying training balls.
Richard Roberts, Managing Director of Trident Honda, presented the balls to Club President, Kev Keaney, at Trident Honda's Ottershaw dealership, with a backdrop of the all-new Honda ZR-V and the new enlarged Honda CR-V Plug-in Hybrid, both launched over the last two months.
Rebecca Adamson, Head of Automobile at Honda UK, comments:
"Grassroots rugby is incredibly important. It creates community, fosters talent and allows people of all ages and abilities to participate in a sport that they love.
"At Honda we strive to improve people's lives through the power of dreams and that same challenging spirit can be found at rugby clubs up and down the country. We're proud to be supporting community rugby through the Honda Rugby Club."
About the Weybridge Vandals RFC
'The Vandals' can be traced back to the London School of Economics in the early 1930's, when Frederick Monkhouse and John Scurr, both forwards in the college first team, issued an invitation addressed to all 'rugger' men throughout London University to attend a meeting at the Ship Tavern in Gate St, Holborn on 18 March 1932.
Weybridge Vandals caters for all age groups from Mini rugby at Under 5, through to Junior rugby up to Under 19, and three senior sides, including a 1st team playing at a respectable level within the London South West 2 league, with good coverage of games in the local press, and a veterans' side for those that just don't know when to hang up their boots!
The Club is always pleased to see new faces, whether as players, spectators, or volunteers who would like to get involved with the Club in some way.