Motability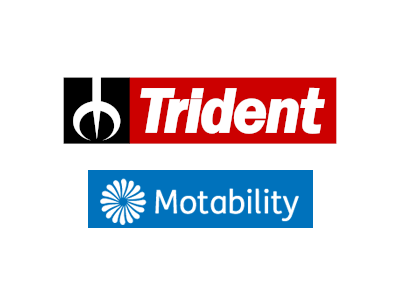 What is Motability?
Motability is an independent not-for-profit organisation, which provides disabled people with mobility solutions, including safe, reliable and affordable cars. Cars account for 99% of the Scheme's activities, with powered wheelchairs and scooters making up the balance.
Motability at Trident Honda
At Trident Honda you will enjoy exceptional service tailored to your needs:
Legendary Honda reliability
Family-run business established in 1963
Collection and delivery for servicing
Wash and vacuum at annual service
Refuelling service available
Personal Motability specialist
Our fully-trained Motability specialists are Lee Waddington and Mike Emery, and they will be delighted to discuss your Motability options with you:
Lee and Mike may be reached on 01932 874411, or Contact Us.
Contact our Motability Team
Honda models available on Motability
Choose from a Jazz, CR-V, HR-V or a Civic.
View List of Available Models
Worry-free means everything is included
In addition to the current advance payments available on the Jazz, Civic and Insight models, the Motability scheme also takes care of the following:
Uses your motability allowance
Breakdown cover
Road tax
Insurance
Servicing and maintenance
Replacement tyres and windscreen
60,000 mileage allowance
Specialist advice
Who qualifies for Motability?
To use any of the Motability schemes you must be receiving one of the following benefits:
Higher Rate Mobility Component of the Disability Living Allowance
War Pensioners' Mobility Supplement
You should expect to receive the allowance for the full length of the agreement you choose. But Motability welcome applications as long as you have at least 12 months award length remaining when you apply.
If you are unsure as to your eligibility, you should contact the following as appropriate:
Once you have chosen which scheme you wish to join, you then agree to pay over all, or part, of your allowance to Motability Operations or route2mobility, depending on your choice of car/wheelchair, for the duration of the contract hire, or hire purchase agreement.
What if I don't drive?
Even if you don't drive, but receive the allowance, you can apply for a car as a passenger and propose two other people as your drivers. An application for a car can even be made on behalf of a child aged three or older, who is entitled to the mobility allowance.
How does the scheme work?
There are two ways in which Motability can turn your mobility allowance into the car for your needs:
A new car on a three-year contract hire lease » Motability Contract Hire
A new or used car on hire purchase, over a term of two to five years » Motability Hire Purchase
Most choose contract hire as they find it's the best option to obtain and pay for a brand new car. They like the convenience of a single, regular payment that includes comprehensive insurance, maintenance and breakdown cover.
Motability Contract Hire
Once Motability accepts your application, the advance payment and weekly rental are price protected. This lasts for three months from the date your agreement is printed - provided that the car description on the agreement is not altered later.
Your contract hire lease price, which will vary according to the make and model you choose, includes:
Comprehensive insurance cover provided by Royal & SunAlliance 'Motability' (R&SAM)
Full breakdown assistance provided by the RAC
Servicing, maintenance, and repairs - which you must arrange through a Motability dealer - at no extra charge to you
An allowance of 45,000 miles over the three years of your agreement*
Additional miles in excess of 45,000 are charged at 5p per mile at the end of the three-year lease period, if you believe this is possible then you may be better off opting for Hire Purchase.
If you choose optional extras that aren't fitted as standard to your chosen car - such as a CD player - they can not be included in the lease cost. You must have them fitted by your supplying dealer and pay for them yourself.
Motability Hire Purchase
Although it has many advantages, contract hire isn't right for everyone. You might prefer hire purchase if you:
want to buy a second-hand car
need adaptations and would prefer not to have to re-install them after three years, although we can offer an extension to five years
regularly cover over 15,000 miles each year
The price guide shows some typical hire purchase repayments - depending on how much you borrow and the repayment period you choose.
If you choose hire purchase, it's important to remember that you are also responsible for comprehensive insurance, breakdown recovery and less predictable costs such as repairs and servicing, which are all included in the contract hire lease.
Further Information
For further information please call Lee Waddington or Mike Emery on 01932 874411 or Contact Us:
Contact our Motability Team