Tyres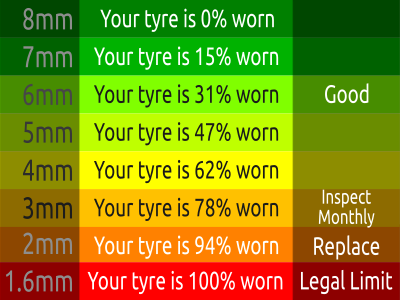 Legal Limits
Did you know that if your tread is below the 1.6mm legal limit that you could be liable for a fine up to £2,500, plus 3 penalty points per tyre?
Minimum legal tread: 1.6mm1
Recommended minimum tread: 3.0mm
Maximum tread: 8.0mm
Experts are generally agreed that 1.6mm is not recommended and most suggest at least 3mm.
Trident Honda Knows Tyres
Trident Honda stocks all of the major brands of tyre, including high performance and value brands. Our pricing is very competitive and, better still, our tyres are fitted by highly qualified vehicle technicians rather than less-qualified fitters.
Please call 01932 874411 or book on-line for your tyre repair, replacement or to request a free tyre check.
Tyre Safety
Many motorists will often put off tyre repairs to save on costs. But it is actually cheaper to replace worn or damaged tyres where necessary, rather than waiting to face a burst tyre and having to be towed off the motorway.
The IAM (Institute of Advanced Motorists) offers advice for motorists on how to keep your tyres in check:
P - Performance: You can monitor the state of your tyres through observation of the performance of your vehicle; grip, handling and fuel economy will all be improved with correct tyre care.
A - Air pressure: It is essential that you check your tyre pressures on a regular basis for maximum performance. Low tyre pressure can cause increased fuel consumption as well as making them more susceptible to damage.
C - Condition: Inspect tyres for any cuts, bulges, uneven wear or objects embedded in the tread.
T - Tread depth: Monitoring your tyres' tread is essential for safety, particularly on wet roads. Check that your tread depth is not below the legal minimum of 1.6mm, although it is worth considering getting them replaced if they are below 3mm.
IAM chief examiner Peter Rodger said:
Regular tyre checks are the best way to keep on top of maintenance and avoid those nasty surprises both to your vehicle and to your wallet. But one day you could become one of the thousands unlucky enough to experience a tyre-related breakdown, so having a dry-run of changing your tyre at home can prove very useful and will mean you needn't rely so heavily on breakdown services, getting you back on the road quicker.
Incidents contribute to delays which cost the economy billions of pounds each year. According to the Highways Agency's national satisfaction survey, carried out between April 2012 and the end of March 2013, only 53% of respondents say they regularly check their tyre pressure.
Stuart Lovatt from the Highways Agency said:
Nobody wants to start their holiday off by having a breakdown that leads to them having to extend their journey time. By checking that tyres are still in good condition, drivers are helping to avoid incidents and the risk of delays, not only to their own journey but to those of other drivers.
If you are carrying heavy loads, you will need to increase the air pressure in your car tyres to compensate. You can find the correct tyre pressures for heavy loads in your car's handbook.
This section has been taken from the Institute of Advanced Motorists.
---
Over the central 75% of the breadth of the tyre and around the entire circumference. ↩