Accord Tourer Concept at Frankfurt Motor Show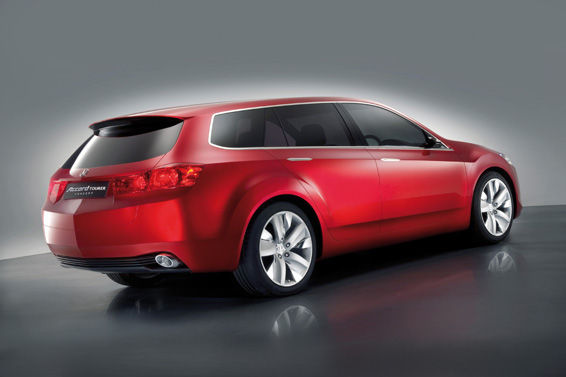 Honda will be presenting the world debut of an exciting Accord Tourer Concept at the forthcoming 2007 Frankfurt motor show. A press conference will be held on the Honda stand in Hall 5 on the first Press Day, 11th September, between 13.15 and 13.45.
The Accord Tourer Concept will give a strong indication of the design direction of the all-new generation Accord Tourer set to debut in mid-2008 and its wider, lower look signals a more sporty, more emotional styling approach. This will be matched by a range of advanced, low emissions engines and innovative new chassis technology that will deliver exceptional handling without compromising ride comfort.
As well as an extensive selection of models from the passenger car range, the Honda stand will also feature a comprehensive line-up of motorcycles and power equipment products. The stand will focus around the twin themes of Sports and Environment.
The Environment area of the stand will centre upon Honda's ground-breaking environmental technologies, such as petrol-electrical vehicles. This includes the Small Hybrid Sports Concept first revealed at the Geneva Show which demonstrates a unique fusion of advanced hybrid technology and fun-to-drive sports car characteristics. Alongside it will be Honda's next-generation clean diesel engine, the production Civic Hybrid and the FCX Concept with its fully-functioning fuel cell technology which made its European driving debut at the Gotland Ring in Sweden earlier this year.
The Sports area of the stand will include Honda's current F1 racing car, the RA107 piloted by Jenson Button and Rubens Barrichello, alongside Civic Type R and Honda S2000 production models, There will also be a strong emphasis on the company's motorsport heritage and alongside the latest F1 car will be one of Honda's first, the 1967 RA300.
Stand visitors will also be welcomed by several displays of Honda's unique innovation, which include the ASIMO humanoid robot, Honda solar panels and HondaJet.