Trident Honda Presented with Customer Satisfaction Award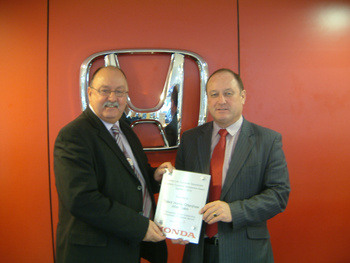 Honda (UK) is very proud of their reputation for excellent customer service, which they have built up over many years. Honda's dedication to customer service has seen them achieve 2nd position in the 2010 JD Power Vehicle Ownership Satisfaction Survey, and they continue to strive to improve.
Since 2005 Honda has invested in a team of dedicated staff to call a sample of customers who visit Honda dealerships either to buy cars or have their current cars serviced and ask them about the level of service received.
This is much more than a measurement programme; Honda and their dealers listen to individual customer comments and then act on them to ensure that Honda delivers a really great experience.
The results from this programme, called SpeakBack has shown that some dealers are really making great strides forward. Trident Honda has shown outstanding performance in their area and Honda is proud to give them one of only 26 Quarter 3 awards for customer excellence available across the country.
Terry Stickland, General Aftersales Manager at Ottershaw is pictured here on the right being presented the award by Bob Murdoch, Area Customer Manager, Honda (UK).
Richard Roberts, Dealer Principal, writes:
This award means a lot to all of us, everyone has worked really hard to always deliver on the promises we make to our customers. I am very proud of all the team here at Trident Honda and we are looking to consolidate on this improvement and be even better in the future.
These awards are just part of a whole new initiative to further improve the service Honda and their dealers give to customers. Their target is to ensure that our customers receive the best customer experience in town. This is a big challenge with the Honda team benchmarking, and setting their sites on, the levels of customer service offered by companies such as John Lewis, Waitrose and Apple Computers.
Michael Doyle, Manager - Customer Understanding, Honda (UK) said:
We're very pleased to see Trident Honda pick up this award for outstanding achievement in customer satisfaction. What they have shown is that they work consistently to improve their customer's experience, and go to great lengths to meet the needs of people in Surrey. Long may their hard work, attitude and commitment to excellent customer experiences continue.