Local Charities Receive Record Cheque from Swimathon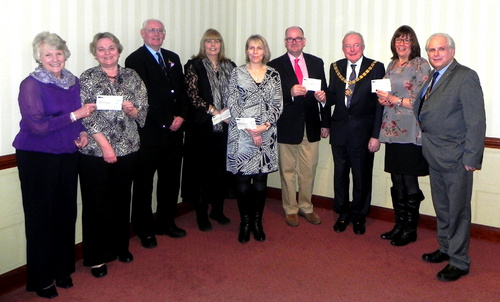 On behalf of Rotary Club of Woking, the Managing Director of Trident Honda, Richard Roberts, and Rotary President Michael Watson, presented cheques totalling £13,000 to five local charities from the proceeds of generous public donations to last year's Swimathon 2012 sponsored teams event. Trident Honda, who have sponsored this annual fundraising event since its inception in 2008, has raised £62,000 over the last 5 years benefiting 19 local charities in Woking.
Richard Roberts, who has been lead sponsor for this fundraising event since its inception in 2008 was specially honoured in a 'This Is Your Life' presentation of his outstanding lifelong commitment to actively supporting numerous local charities and voluntary groups benefiting the whole spectrum of community life in Woking. Mr Roberts was presented with Rotary's highest international honour for exceptional public service, The Paul Harris Fellow Award.
Mr Roberts confirmed that Trident Honda would be once again providing the main sponsorship, including their own participating team, for the next Swimathon 2013 set for Sunday 13th October 2013.
Cheques were presented to: