Trident Honda launches new website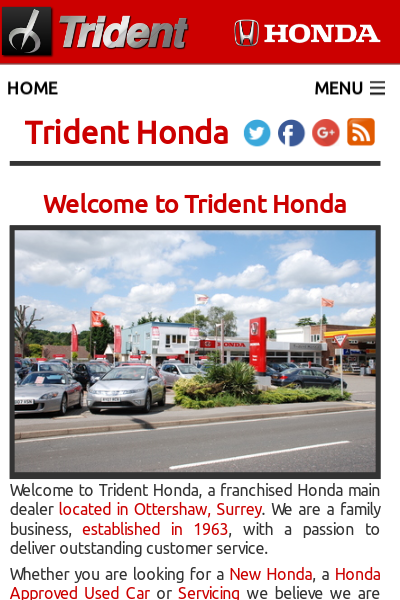 Recent visitors to the Trident Honda website will have noticed that everything has changed! Trident Honda has recently launched a new mobile friendly website. Developed in-house, the new website provides an entirely new experience, with larger text and optimised for smaller screens and touch.
And the changes are not just skin deep, our new website has been designed to meet the highest standards of security.
Most of the content from our old website has already been migrated but, with news articles dating back 20 years, it will be some time before the process is complete.
If you wish to provide feedback please Contact our Webmaster.
Mobile friendly
With well over half the traffic to our website being on mobile, our website was well overdue for an overhaul.
Developed for mobile first, the style is necessarily simpler and less cluttered than in the past. Font sizes have been increased throughout and we have been careful to use a dark typeface on a white background, to ensure that our site is accessible to all.
Security at its core
Early on in the development of the new site we decided to opt for 100% encryption, to ensure that your data are protected at all times. And it is not just any old encryption - our site encryption is rated A+ by Qualys SSL Labs. This means that from the moment you connect to our site, everything1 that happens between your web browser and our webserver is encrypted to the latest standards.
Whilst our webserver is running a modern and secure operating system from a first class provider, we have also taken the decision not to store any customer information on our webserver, encrypted or otherwise.
Finally to ensure that data cannot be hacked when being sent to our team at Ottershaw, all data are end-to-end encrypted from webserver to mailserver and from mailserver to our Ottershaw team's desktops.
Such a focus on security makes Trident Honda's website amongst the very safest on the World Wide Web today.
Windows XP
Unfortunately such strict adherence to the latest security standards has made it impossible2 for us to continue supporting Internet Explorer on Windows XP. There are many other reasons to upgrade from Windows XP, but if you are determined to use Windows XP, then you may be able to access our website by installing Google Chrome. Alternative, why not use your phone or tablet to browse our site?