Mission accomplished! Jenson Button secures Honda's fifth and final planned lap record in Civic Type R Challenge 2018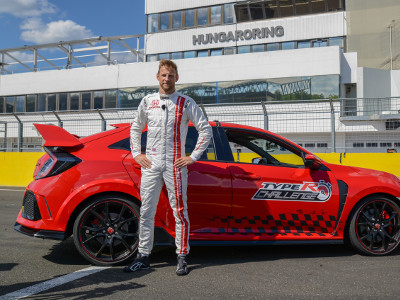 In the fifth and final of a planned series of lap record attempts across Europe in 2018, Honda has set a new 2min 10.19sec record for a front wheel drive production car at the Hungaroring GP circuit in Hungary. The Civic Type R was driven by Formula One World Champion and current NSX Super GT driver, Jenson Button. The track holds special significance for Button, as the circuit where he won the first Grand Prix of his career with Honda in 2006.
The Hungaroring circuit is a twisty and narrow 4.38km track with 180-degree corners and a complex chicane, making it one of the more technical tracks in Europe. However, this proved to be a perfect demonstration of the Civic Type R's Adaptive Damper System, delivering a firmer, flatter ride and greater agility for high-performance handling around the tight circuit. Alongside the suspension system, the unique steering setup and improved aerodynamics enabled Button to secure the lap record for Honda at the Grand Prix circuit.
Speaking about the lap record, Jenson Button said:
We came here to the Hungaroring, where I won my first F1 race in 2006 with Honda, to set a new front-wheel drive production lap record in the new Type R, and I'm very happy that we did it!
Commenting on the Type R itself, he added:
The first thing I noticed when I left the pit lane was how neutral the car was. I come from a background that is not front-wheel drive focused, so it was very different for me but because the Type R is so well balanced it was instantly really enjoyable and more natural. The thing that surprised me most is how late you can brake with this car. The manual gearbox works really well, too. Most cars these days don't come with manual boxes, so it's nice to have that manual feel. You always feel a lot more connected to the car.
Honda set the original benchmark time for Hungaroring during a similar challenge in 2016, using the previous-generation Civic Type R. This new benchmark time is the fifth front-wheel drive lap record set by Honda in The Type R Challenge 2018, achieving the objective set out by the challenge, which was thought up after the Type R became the fastest front-wheel drive production car ever round the Nürburgring Nordschleife in April 2017, with a lap time of 7mins 43.8secs. These six records cement the Civic Type R's position as the quickest car in its class.
The challenge saw five of Honda's racing champions put the car through its paces around five tracks in Europe, setting new record lap times for a front-wheel drive production car.
Newly engineered from the ground up to deliver the most rewarding driving experience of any Civic Type R, this latest generation Civic development programme is the largest in Honda's history. The high-performance hatchback remains the quickest and fastest accelerating car in its class, lent to a combination of its lightweight, highly rigid bodyshell and unique dual-axis strut front suspension system, which reduces torque steer and conquers hard cornering. The Type R retains the heritage of Honda's high-performance hatchback bloodline and is the fastest accelerating and quickest car in its class.
Button finished with:
This new Type R is a mega bit of kit, as they always have been, and it's definitely not lost any of its charm.
Video footage
Further information
If you would like to have a test drive in the new Honda Civic Type R, please contact our Sales team on 01932 874411.