Trident Honda renews its sponsorship of Knaphill Athletic FC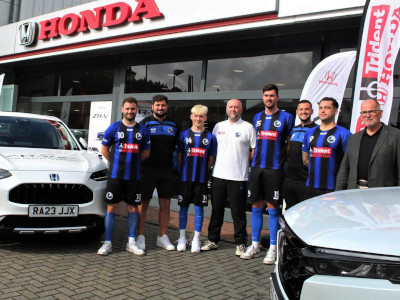 Trident Honda is pleased to announce the continuation of its long-standing partnership with Knaphill Athletic FC, for its forthcoming 14th consecutive season. This season is particularly special for Trident Honda, as the Company celebrates its 60th anniversary.
Based at Waterers Park in Knaphill, Knaphill Athletic Football Club has been sponsored by Trident Honda since it was formed in 2010.
This season, as part of the continued collaboration, Trident Honda has furnished the club with a new sublimated kit. This choice of fabric ensures that all printing, including the Trident Honda branding, is integrated within the material, thereby enhancing durability.
"At our level of local football we run the club on a small budget so the backing of a well-respected, family-run business such as Trident Honda really helps us out." explains Club Secretary Matt Mynard.
Knaphill Athletic FC also supports the causes backed by Trident Honda, with Woking & Sam Beare Hospice on the back of the shirts. Players and management also take part in the Woking Swimathon each year, raising valuable funds for local causes.
This season, Knaphill Athletic FC will again compete in the Premier Division of the Surrey County Intermediate League (Western).
As Matt elucidates, "We face strong competition both in terms of player acquisition and opponents within our division. However, we've had a productive pre-season and seen increased attendance at training. We're optimistic about remaining competitive and possibly winning some silverware while maintaining a positive atmosphere."
About Knaphill Athletic FC
Based at Waterers Park in Knaphill, Knaphill Athletic Football Club was formed in 2010 by the former committee and members of Surrey Athletic and Knaphill FC A & B Teams, to provide participation football at all levels throughout the intermediate and junior levels of adult football. In 2014, after much hard work off the pitch, the club were awarded FA Charter Standard Community Club status recognising our achievements in providing a safe and competitive football environment for local youths.