Out of Hours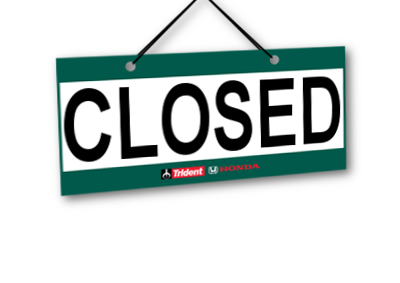 We are always happy to help our customers when problems occur, be it a breakdown or accident, but there are times when you need help outside of office hours. This page is an attempt to bring together some contact details that might be helpful in such an eventuality.
Please note that our sole purpose for providing this information is to assist you, our customer. The information is provided in good faith, but includes the details of companies not affiliated to Trident Honda and we are unable to provide any guarantees or warranties against any work that they carry out on your behalf.
Opening hours
Our opening hours are published on the following page:
Service Key-drop
Our 24-hour Shell filling station (dealership side only) is part of Trident Honda and the staff are able to take your keys and will pass them onto the Service Department when we next open. They will provide you with a key-drop envelope with a form on the side, which we would ask you to complete in full and then enclose your keys.
Dashboard Warnings
If you have a warning light appear on your dashboard, you should stop your vehicle at the earliest safe opportunity and consult your driver's handbook to determine the nature and importance of the warning.
If the warning is the Tyre Deflation Warning, please see the following document for relevant advice:
If you have any other red or orange warning light appear and stay illuminated on your dash, then it would be best to seek further advice before continuing your journey. Otherwise if your car is covered by Honda warranty or Honda extended guarantee, we recommend that you speak to Honda Assistance (under Breakdown below).
Breakdown
In the event of an accident or breakdown you may contact Honda Breakdown Assistance:
Once connected, press option 2 to speak to a member of our accident management team.
If your vehicle is not covered by a Honda warranty, but you are a member of one of the motoring clubs, then you may wish to contact them instead:
If you are not a member of one of the above, then they will probably still help you and offer you the option of joining their organisation at that time.
We recognise that finding a recovery firm may be a challenge over holiday periods and, whilst we are unable to provide any particular recommendation, the following company may be another alternative:
Accident
If you have been involved in an accident, please do consider telephoning the police by calling 999 (or 112 from a mobile). You must call the police if anyone has been injured.
Please obtain the contact details of all involved parties, including witnesses, and ensure that you obtain all relevant registration numbers. It is a good idea to draw out a plan of the scene, indicating the position and direction of involved vehicles. If you have a camera or smartphone then pictures can be extremely useful for your insurance company.
If the accident occurs during our normal opening hours, then please call do us first, otherwise please contact Honda Accident Assistance, (see Breakdown section above). You should also contact your insurers. They will probably require estimates prepared, and we would be delighted to provide you with an estimate for repair.
Trident Honda has a Honda Approved Bodyshop for the repair of your vehicle (closed over the Christmas holidays), and we would be delighted to provide you with a quotation for repairs. Please note that it is important to ensure that any repair of your vehicle is carried out by a Honda Approved Bodyshop, in order to maintain your corrosion warranty.
Car Hire
If you need a replacement car, then please contact Enterprise Car Hire on 01932 350500, if you have been involved in an accident that was not your fault, you may be entitled to a replacement car as part of your insurance claim, Honda Assistance (see Breakdown above) will be able to advise you.
Mis-fuel
If you have put the incorrect fuel in your car, the important thing is not to attempt to drive it! Please contact the RAC Wrong Fuel Recovery Service. The service is available to non-members, but existing RAC members will receive a £50 discount.
Shell Filling Station
Please note that we do have a 24-hour Shell filling station and staff are able to telephone managers out of hours in the case of an emergency. We would be grateful if you would be mindful of the fact that our Forecourt staff are not trained or paid to deal with customer care issues.
In the case of a breakdown then please follow the Vehicle Recovery instructions and then make contact with us once we re-open.
Our Forecourt may be reached on 01932 877215. Please note that during busy periods, or where there is only one sales assistant on duty, then it may take a while for the telephone to be answered.