New Showroom Gallery and 360° Views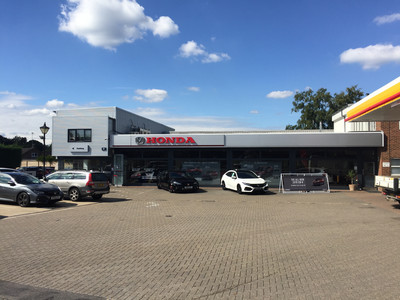 Following the completion of our showroom redevelopment, we have taken some external photos and a 360° internal views (see below).
We are very proud of our new showroom, why not come along to our Macmillan World's Biggest Coffee Morning on Friday 28th September, and on Saturday 29th September, and see it for yourself?
Original plans
The original plans for the development entailed:
New showroom design to Honda standards
New exterior cladding
New finance sales office (for customer privacy)
New customer waiting area with leather seating
New customer toilets with new lobby door for additional privacy
New low-level service and reception desks with customer seating for improved customer comfort
New eco-friendly LED lighting throughout
New Humanscale showroom and reception furniture
New bean-to-cup coffee machine
New large screen LED television
New power and data to every showroom display car
See original announcement for more detail.
Additional works
In addition to the planned works, we have now also carried out:
New steel supports to improve structural integrity of upstairs offices (nearest service car park)
New roofing for the upstairs offices (nearest service car park)
New locked archival storage areas to comply with GDPR1
New carpets and redecoration to accounts and administration areas
New digital HD CCTV system
New showroom digital music system
New energy efficient showroom air-conditioning system
External view
Showroom 360 view
Click the Fullscreen button by clicking on the four corners icon at the top right.
---
General Data Protection Regulations ↩