Trident Honda COVID-19 Coronavirus response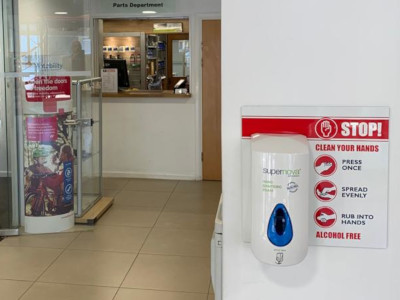 COVID-19 is probably causing you some concern; so we wanted to reassure you that at Trident Honda, we have taken all appropriate measures to protect our customers.
We're spotless!
Our showroom is spotlessly clean, with our team sanitising all door handles, taps, and anything else with which you might come into contact, several times a day with anti-viral cleaning spray. We have also installed anti-viral hand sanitiser dispensers near each of our entrances and are asking all our customers to clean their hands upon arrival.
At our Shell filling station, we are sanitising all our pump nozzles several times each day and have disposable gloves which you should use when refuelling during the pandemic. Inside the shop we have installed an anti-viral hand sanitiser dispenser and are sanitising all taps, coffee machines and other customer-facing equipment several times a day. We have hand wipes freely available by the tills for your convenience.
Please accept a warm smile
Our staff have been asked not to shake hands, but will be sure to say hello and provide their warmest smile. We would be delighted to join you in your favoured handshake alternative -- either elbow or foot bump, within reason!
We will come to you
Despite all the above measures, we do appreciate that there are those of you who may still feel nervous about visiting our showroom in the current climate.
If you prefer, we will happily come to you to show you a new or pre-owned Honda and, if you want a test drive, we will sanitise the steering wheel and gear selector before you drive it. We also offer free collection and delivery for Service bookings. Our driver will even sanitise your steering wheel and gear selector before he hands back your keys!
Collection and delivery is limited to local customers; but even if you are further away we may still be able to help -- so please do contact our service team.
Please support your local dealership
Trident is a family owned and run business, established in 1963. We employ 65 staff, most of whom live locally and have been working for Trident for many years.
Trident supports many local charities -- in particular the Woking & Sam Beare Hospices for whom we are a Gold Level Business Supporter.
Trident has recently completed a £1m showroom and workshop redevelopment to meet Honda's latest requirements, and is now investing further in electric chargers, to support Honda's decision for all models to be electrified by 2022. All these investments are there to support your current and future requirements, and to ensure that your next visit is as pleasurable as possible.
Opening hours
At the moment we are continuing with our normal working hours, but to check the latest information please visit our opening hours page:
Suggestions welcome
Please do let us know if there is anything more we can do to support you and your family's motoring needs over the coming months.
We wish you the very best of health over the coming months.
Thank you for your future business, it really is appreciated.
Kind regards,
Richard Roberts
Managing Director