The 2024 Honda CR-V e:HEV and PHEV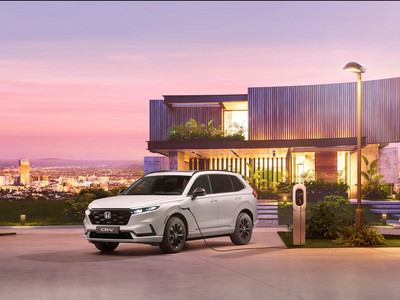 The ultimate all-round family vehicle
The 2024 Honda CR-V has been designed with a bolder, more confident appearance and exceptional levels of practicality, safety, connectivity, and comfort.
Now with a longer wheelbase and wider stance, the CR-V offers spaciousness comparable to that of a larger SUV. Not only providing rear seat passengers with best-in-class leg room, but also creating more boot space and increasing stability at higher speeds.
Offered as either full hybrid (e:HEV) or plug-in hybrid (e:PHEV), the sixth generation CR-V delivers dynamic performance and efficiency across the range:
The familiar e:HEV will be AWD (all-wheel drive) and now features a more energy-dense battery and more efficient motor.
The all-new e:PHEV will be 2WD (two wheel drive) and, with its larger battery pack, will offer up to 50 miles in all-electric range.
Hybrid and plug-in hybrid powertrains
Honda introduces its first plug-in hybrid powertrain - the e:PHEV, offering 50 miles of all-electric range. Alongside the upgraded hybrid e:HEV model, customers can expect an exhilarating driving experience with greatly improved environmental performance, responsive power delivery and reduced cabin noise.
Both options feature the most advanced iteration of Honda's award winning full-hybrid powertrain, with the same enhanced 2.0-litre four-cylinder direct-injection Atkinson-cycle petrol engine, pairing seamlessly with a newly developed version of Honda's lightweight dual electric motor automatic transmission.
The latest improvements to the powertrain have resulted in a 6.5% increase in torque to 335Nm, and a 7% higher top speed.
e:HEV
The boost in power compared to the previous CR-V means a more assured acceleration feel and improved responsiveness, with 0-62mph acceleration taking 9.4 seconds, before heading on to a top speed of 116mph. Despite the gains in performance, the e:HEV system also offers increased levels of efficiency and a reduction in emissions with Combined CO2 as little as 151g/KM and 6.7l/100km (42.2mpg).
e:PHEV
The e:PHEV features a significantly larger 17.7kWh battery and a lightweight, high-output on-board electric charger, enabling an EV-only range of 50 miles. This increased electrical assistance also means that the engine speed can be kept much lower, improving noise levels, refinement, and fuel efficiency.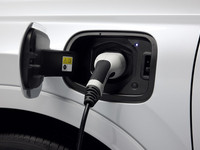 Efficiency and consumption figures are just 18g/km and 0.8l/100km (353.1mpg) with a fully-charged battery. When the battery is completely depleted, these figures will increase to those of a traditional hybrid.
The charging control in conjunction with the battery warmer allow it to better deal with colder environments and also significantly improve recuperation at lower temperatures. When the battery temperature is 25°C, the latest CR-V achieves a 100% state of charge in just 2.5 hours, thanks to the 6.8 kW charger output.
As part of the connected services offered on the e:PHEV, users can select a range of preconditioning and climate functions when charging to further improve efficiencies, reduce costs and increase comfort in all weathers. These functions include a timer, as well as temperature and operation time settings, meaning CR-V owners can schedule charging for the cheapest and most convenient times, and have the car automatically adjusted to the desired temperature before they walk out of their house to the car.
Clever packaging of the electrical components and having the battery mounted under the floor have allowed a boot capacity of 586L.
Premium quality interior and class-leading spaciousness
At the front is a clean, uncluttered, dashboard with a full-width air-vent, centrally mounted 9.0" infotainment screen and large 10.2" digital dial set behind the steering wheel - all arranged to further aid outward visibility. Higher-quality textured materials feature throughout the all-new CR-V's cabin with tactile switches and controls that are easy to understand and operate, creating a luxurious in-car experience.
This is the first CR-V to adopt Honda's Body Stabilising Seat for front occupants, incorporating a planar resin mat structure to support the occupant's entire lower body, from the pelvis through lumbar spine, for greater stabilisation and support. This also improves the hip point position, making it easier to get in and out of the car.
Front heated seats are offered as standard, and are ventilated on the Advance grade, improving comfort on long journeys. The seats are finished in a black fine genuine leather as standard, with bold quilted accents for a unified, premium feel. A newly designed central armrest is also now semi-automated, electrically opening to 60 degrees and a further 30 degrees manually.
In the rear, the CR-V offers best-in-class rear leg room - up 16mm on the previous model - while rear seat recline has increased 10.5 over the previous CR-V, with 8 selectable options. The CR-V also boasts one of the largest rear load spaces in its class, with e:HEV models offering 587-litres of cargo space, and e:PHEV variants providing an additional 72-litres, owing to its adjustable two-level cargo floor.
The tailgate has been updated with a new, quieter power lift module that reduces operating time. Hands-free operation is also possible, with automated walk-away close and optional vehicle locking on closure.
Sporty and powerful design
Now 10mm wider and 80mm longer than its predecessor, the new CR-V's bolder, more aggressive styling is typified by the front grille, which features a new larger piano black mesh pattern, with individual designs for the e:HEV and e:PHEV, the latter featuring wider, more open hexagonal shapes for a more aggressive and sporty appearance.
Honda has worked to improve the vehicle's aerodynamic properties through bold body styling. Beneath the grille, the low, wide valance is sporty and functional in its design, with e:HEV variants incorporating a shutter grille that opens and closes automatically to reduce aerodynamic drag and improve fuel efficiency. These combine with other aerodynamic improvements to improve air flow under and around the CR-V, providing greater stability at higher speeds.
Customers can choose from six exterior colours, including new rich Diamond Dust Pearl, Canyon River Blue Metallic and Gold Titan Metallic colours, all featuring for the first time on CR-V. The popular Premium Crystal Red Metallic, Platinum White Pearl and Crystal Black finishes are all carried over from the previous model.
Smart 18-inch alloy wheels will be standard across the CR-V range - in a gloss Berlina Black finish for the e:PHEV, and Shark Gray metallic for the e:HEV model.
Dynamic driving experience with enhanced comfort and refinement
Honda paid great attention to improving driver comfort and creating a secure steering feel, particularly at high speeds. One example of which is a new steering control unit, which features an optimised steering assist control. This contributes to a sense of security at higher speeds and delivers a light and nimble feel at lower speeds; making the CR-V feel more like a saloon behind the wheel.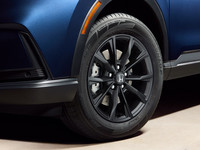 Honda has also dramatically improved body rigidity and stiffness in the new CR-V, with the introduction of lighter, stronger materials, the application of reinforcement members, and the use of structural adhesives.
The CR-V has been perfectly designed to deal with broken road surfaces and uneven terrain, thanks to a flatter ride that prevents unnecessary movement over large undulations. The e:HEV achieves this via amplitude reactive dampers that make the damping force harder or softer based on the vibration frequencies from the road conditions.
The e:HEV also benefits from an evolved all-wheel-drive system, which actively distributes driving force. The previous CR-V's AWD system disengaged at motorway speeds, but the latest model retains control of the rear axle for increased grip on fast, undulating and sweeping roads. Noise, vibration, and harshness (NVH) levels have all been significantly reduced.
The e:PHEV model benefits from a full adaptive damper system that reacts to a range of vehicle sensor data. The system offers high levels of stability and ride comfort in Normal mode, whilst Sport mode increases the damping force, widens the operating range, and delivers a tighter, more controlled ride for dynamic driving.
The latest CR-V offers Normal, Sport and Econ drive modes, while the e:PHEV also features EV mode, Advanced Eco-assist and Snow mode.
In addition, towing performance has been greatly improved with the addition of a Low Ratio Lock-up and new Tow driving mode. This allows the e:PHEV variant to pull up to 1,500kg (braked) and e:HEV up to 750kg, vastly increasing the flexibility and usability of the vehicle. Tow mode keeps the engine revs low with a low gear ratio lock-up clutch and battery assist when towing uphill, while Hill Descent Control enables secure deceleration using only the accelerator pedal.
The e:PHEV also features a click mechanism on the accelerator pedal to provide feedback to the driver when they reach the limit of electric-only acceleration. When the driver exceeds this range, and requires more speed, the engine will seamlessly start-up to generate maximum electric energy for powerful acceleration. Alternatively, drivers can use this click mechanism as a cue to ease off and remain on electric power.
Further Information