Trident Honda update on temporary dealership closure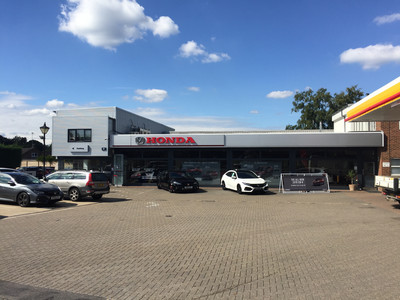 Following our decision to close our Ottershaw Honda dealership from close of business last Friday, 27th March, please see below updated advice below.
Our Shell filling station remains open, but on the reduced hours of 6AM to 9PM.
Why we closed
We had no choice but to close our Honda showroom as a non-essential business, but we felt increasingly uncomfortable with the risks posed for both our customers and staff by remaining open for service work, of which only a tiny proportion could be considered essential.
When will we be re-opening
We intend re-opening when the government lifts its restrictions, but we will continue to monitor the position and will make any appropriate announcements on our website and social media. When we re-open we will start by calling all those customers for whom we have cancelled bookings.
But what if…
If you need help with your car during our closure, please do bear with us as we are currently unable to operate a normal telephone reception service. The best method of contacting us at the current time is either via Contact Us, or email reception@tridenthonda.co.uk.
If you would prefer to phone, then please call 01932 874411 and leave a voicemail with your name, contact number, vehicle registration number and the nature of your enquiry.
We are endeavouring to respond as quickly as possible to all enquiries between 8.30am and 4.30pm Monday to Friday; however we are prioritising NHS keyworkers, so please remember to state this in your enquiry.
For more information, please refer to our Out of Hours support page, which we will be updating with useful information:
Buying your used Honda…
Our showroom may be shut, but our website is open, and we would like to offer you a very special No Quibble £5001 discount on any of our Honda Approved used cars.
Step 1: Visit our stocklist and choose your perfect car
Step 2: On the car's webpage, scroll down and click the yellow Contact Us button, please ensure that you provide your contact number and stating that you wish to reserve the car
Step 3: We will contact you by telephone to take your £99 deposit
Step 4: When we re-open we will contact you to arrange a viewing
Too complicated? Simply Contact our Sales Department with your name, contact details and the vehicle registration number of the car that you wish to reserve.
Thank you
We would like to thank all our customers and staff for their amazing support over the past few weeks, and wish you the best of health over the coming weeks.
Kind regards,
Richard Roberts
Managing Director
---
Offer applies only during the dealership closure, whilst stocks last and is at the promoter's discretion. £500 includes VAT where applicable. ↩