Trident Honda installs new phone system after customer feedback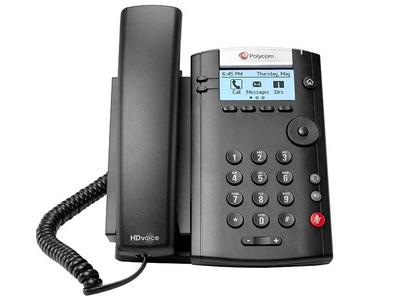 Feedback from our customers has been clear -- we are not always the easiest company to contact by telephone. This led to our recent apology for our phone problems and we are pleased to announce that we have now terminated early our contract with Vodafone One Net and have now gone live with a new phone system from Foehn Ltd.
We believe that that the new system will make an enormous difference to our customer service. There will inevitably be some teething problems and we would like to thank you for your patience, whilst the new system beds in and our staff get used to the differences.
Key changes
Smaller provider with better customer service;
Calls routed via three separate networks to ensure better network reliability;
Utilises our existing Internet connection, which benefits from triple redundancy to minimise connectivity issues;
Highly configurable platform, enabling rapid design changes to be made.
We have taken the opportunity to re-design our call flow, with the following key features:
Automated receptionist
At Trident Honda we have always resisted using a menu-driven phone system, but in recent years we have used the automated menu-based system when our receptionist was busy, and in recent months to avoid customers' calls being terminated abruptly. Your feedback has been that most of you are comfortable with some level of automation, provided that you have your call answered promptly and can speak to a receptionist when required.
As a result we have decided to trial having an automated receptionist by default, but if you do not respond promptly to the available options, we will quickly direct your call to our receptionists, Karen and Marnie.
Service call handling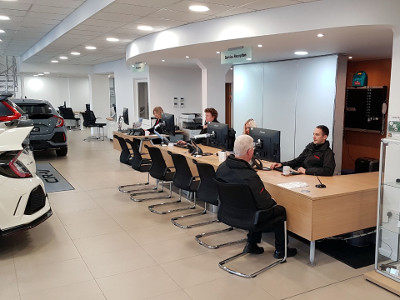 We have received much feedback from customers stating how frustrating it can be to get through to our Service team. As a result, we have now implemented a single Service call queue to ensure that customers are all dealt with fairly and in order.
To ensure that your calls are not terminated before you've managed to speak to our Service team, we have extended the potential wait time from 3 minutes to 20 minutes. We certainly that hope our wait times are never as bad as that, but your feedback has been that many of you do not wish to leave a message, and being forced to call back again numerous times, each time rejoining at the back of the call queue, simply results in enormous frustration for our customers.
If you find yourself unable to continue waiting, then you can press 1 at any time to leave a message, with either our Service voicemail or with our receptionists, Karen or Marnie.
A large number of your calls are to determine the progress of your car through our workshop. These calls are generally handled by our Workshop Controller, Mick Fance. To improve our handling of these calls, we have now removed Mick from our Service call queue, and have instead created a new option to enable you to go straight through to him to determine the progress of your car.
Sales call handing
Your feedback suggests that it is generally easy to speak to our Sales team; nevertheless we have spent some time in trying to make it easier for you to get through to your sales person:
Having selected Sales from our initial menu options, you will now be given the option of speaking to our sales executives, or holding to speak to our receptionist. If you choose to speak to our sales executives, you will be given a further option to speak to a named sales executive, or be allocated automatically to a new sales executive.
The aim is for us to route your call as quickly as possible, but we will be monitoring the system closely and making changes in light of feedback.
Outbound telephone numbers
Lastly, we have always announced our telephone number as being 01932 874411 for most of our outbound calls. We have now taken the decision to instead announce each department's telephone number; so that when you return a call, you should go straight through to the correct department.
This, we hope, will both improve our customer service and reduce call volumes to our reception.
Trident Honda's problems started when it replaced its ageing 25 year old phone system back in 2017. Christopher Roberts, Finance & IT Director of Trident Honda, writes:
It is disappointing when an expected improvement turns out to be anything but. We believe that we have learnt a great deal from the recent problems, and that the new system will be a dramatic improvement. Once again we would like to apologise for our poor telephone handling in recent years and would like to thank our customers for their patience and tolerance, whilst we trial the new system.